Forest in the Sun
1976
Joan Calvert
Guy Ngan
Accessible
Dimensions
H7200 x W9600mm (each panel 2400mm square)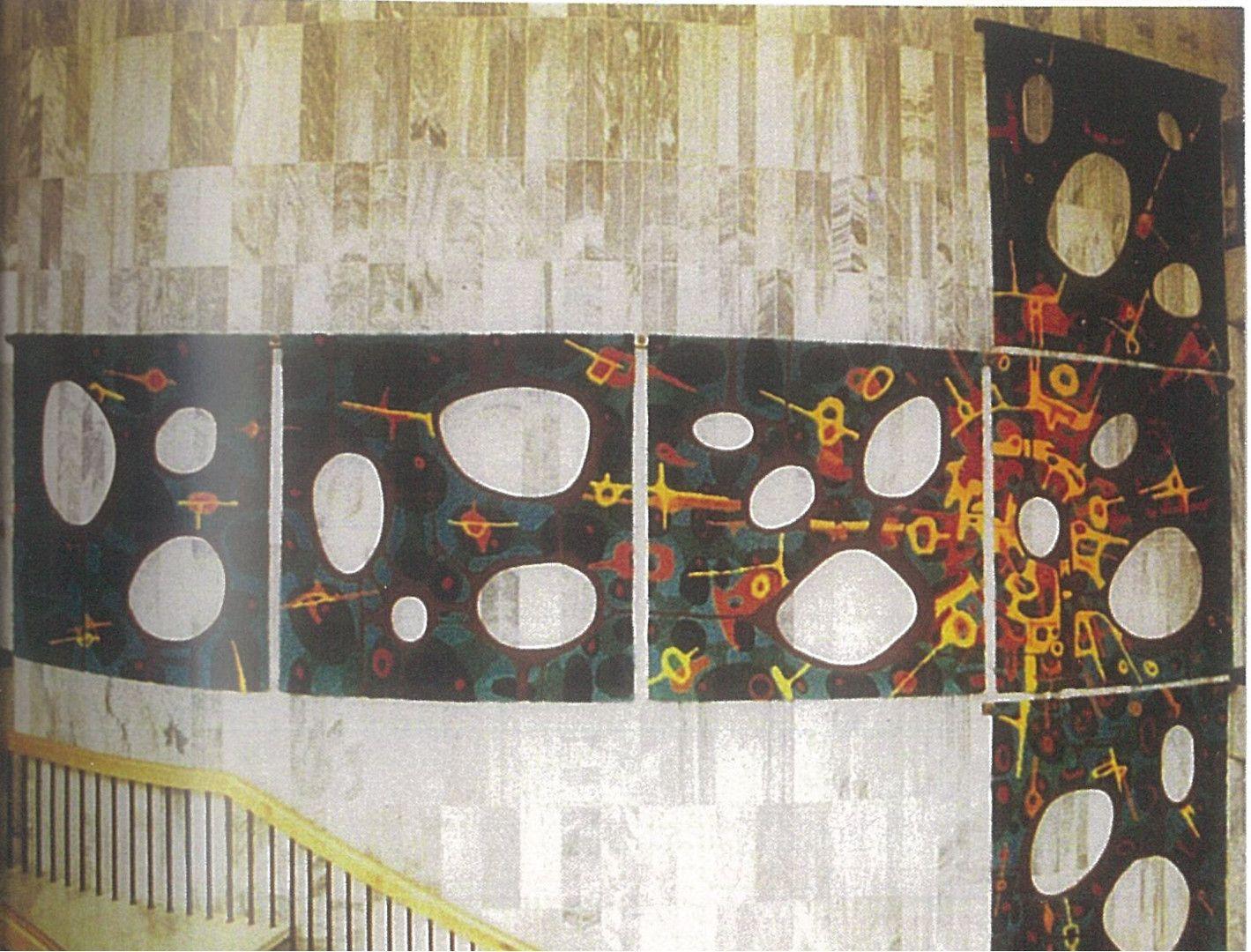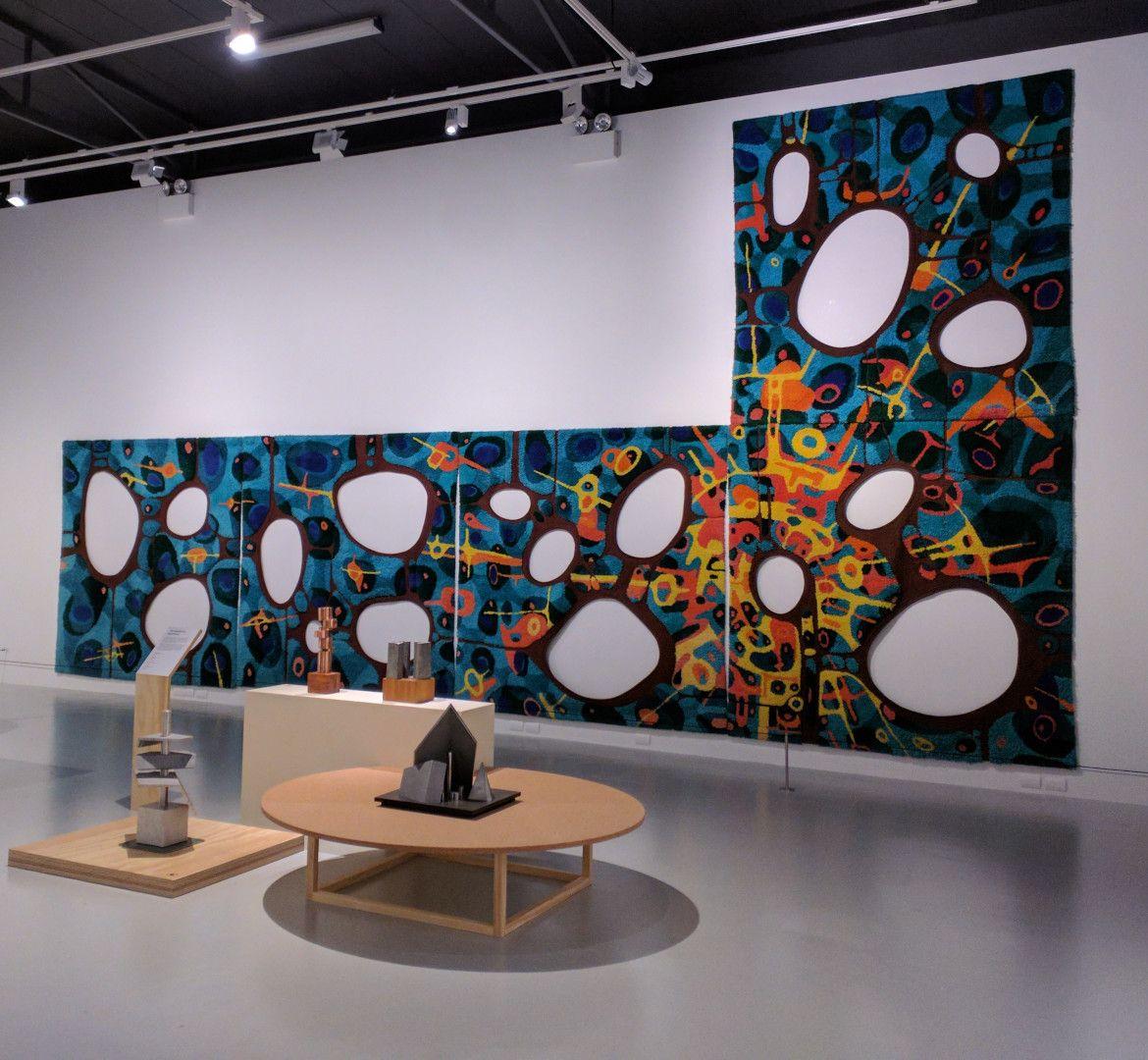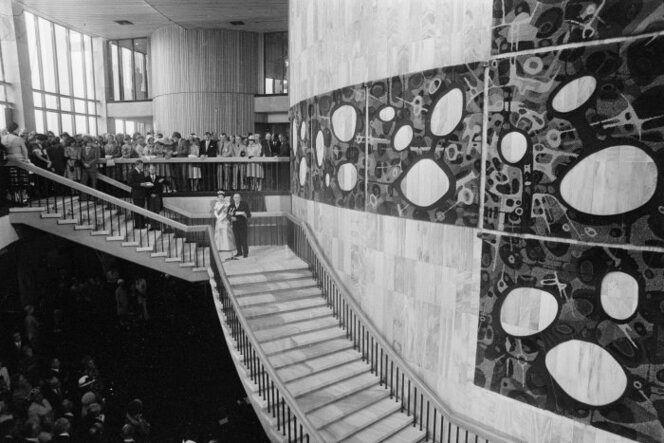 Description
'Forest in the Sun' is a huge work and a remarkable achievement of collaboration between respected Wellington fibre-artist, Joan Calvert ,and Wellington sculptor and designer, Guy Ngan. Its design was selected from entries by fifteen of New Zealand's top weavers.
The weavers had been asked to provide designs for a wall-hanging for the main entrance foyer of the new wing of the New Zealand Parliament Buildings, the "Beehive". Noted for its circular interior, the main entrance foyer includes a curved marble wall that extends the full height of the stairwell of building, from the ground to first floor.
Calvert approached Ngan to design a work that would respond to the Beehive's architecture and the collaboration produced a huge hanging consisting of six panels, each 2.4 metres square, arranged in an horizontal T-shape. It was the largest project Calvert had ever undertaken.
Bursting with colour, the woollen wall-hanging was intended to evoke the experience of walking through native bush and, looking up through a canopy of trees, being dazzled by the sunlight filtering down. Circular gaps within the panels exposed the Carrara marble of the wall behind.
The design perfectly addressed its subject, while taking into consideration the site restrictions. While needing to be of a large-scale, the hanging could not be heavy and had to fit the curve of the marble surface of the central wall. As a result, 'Forest in the Sun' is in six parts, suspended from narrow, flat aluminum panels that bend. The cell-like holes help to meet the weight requirements while referencing the organic matter and sunlight. Other considerations included the need for the yarns to be colourfast and durable. For Joan Calvert there was an additional responsibility, proving the validity of weaving as an art form.
The piece took 18 months to make. The process included the design and scale drawing, yarn dying, knotting and hanging. With the scale of the work, Calvert enlisted the help of two other weavers, Dorothea Turner and Jean Ngan, who both undertook the labourious process of knotting two panels each over eight months in 1976 to complete the work. In February 1977, the work was hanged in readiness for the formal opening of the building.
In 2003, when the Beehive was being refurbished the monumental work was removed and the government donated it to Te Papa Tongarewa.
Postscript:
Working with the Parliamentary Service, The Speaker of the House and Te Papa Tongarewa, Public Art Heritage Aotearoa New Zealand secured permission to return the work to its original location. It was successfully reinstalled in 2023.