Untitled [Naenae Post Office]
1959
Guy Ngan
Lost
Dimensions
Approx. H5400mm x W6400mm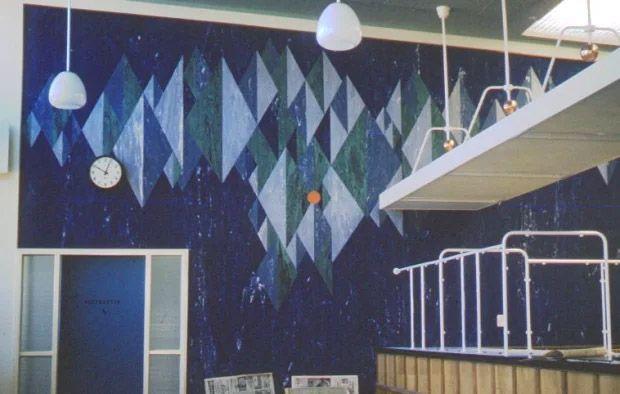 Description
Mid-century New Zealand was marked by the end of both the depression and WWII. An urgent need for housing struck the country and inspired the government to implement a plan to construct thousands of houses. Lower Hutt was one beneficiary of the plan and several suburbs—and their respective community centres—sprung up including those of Epuni, Taita, and Naenae.
Designed by Viennese émigré architect Ernst Plischke, Naenae's Hillary Court opened in 1954, with the Naenae Post Office as the centrepiece of what may have been New Zealand's first pedestrianised shopping mall.
The design of the Post Office building was handled by architect Walter Frederic Charles Vine, under the supervision of Government Architect Gordon Wilson. During this time Guy Ngan was employed full-time at the Ministry of Works Architectural Division as a design consultant. In this capacity he was invited to to create a site-specific work for the main public-facing area. Hon Michael Mocham, Post Master General, laid the foundation and opening plaques. The contractor was J M Construction, and the building was officially opened on 4 December 1959.
This artwork is unique in Ngan's oeuvre as it is the only known linoleum work he completed (most of his public murals and sculptures were constructed from concrete, aluminium, and tile); it is a colourful work (also rare for his public artworks); and it is the only known two-dimensional public artwork that Ngan made for the Hutt Valley. Linoleum was a popular mid-century flooring product, created primarily from linseed oil, albeit with traces of lead. Highly durable, it was applied in a range of commercial and domestic settings. Renowned as a thrifty creative, it is possible that Ngan made this mural from offcuts of linoleum.
The Naenae branch of the Post Office closed in 2015, however the mural had already disappeared by this time, possibly when additions, alterations, and general "redecoration throughout" occurred to the building in 1984.