The Reintroduction of the Fabulous Races
1990
Bing Dawe
Noel Gregg
Jim Wallace
Accessible
Type
Sculpture
Sculptural Utility
Dimensions
7 fences, each H2500 x W2100mm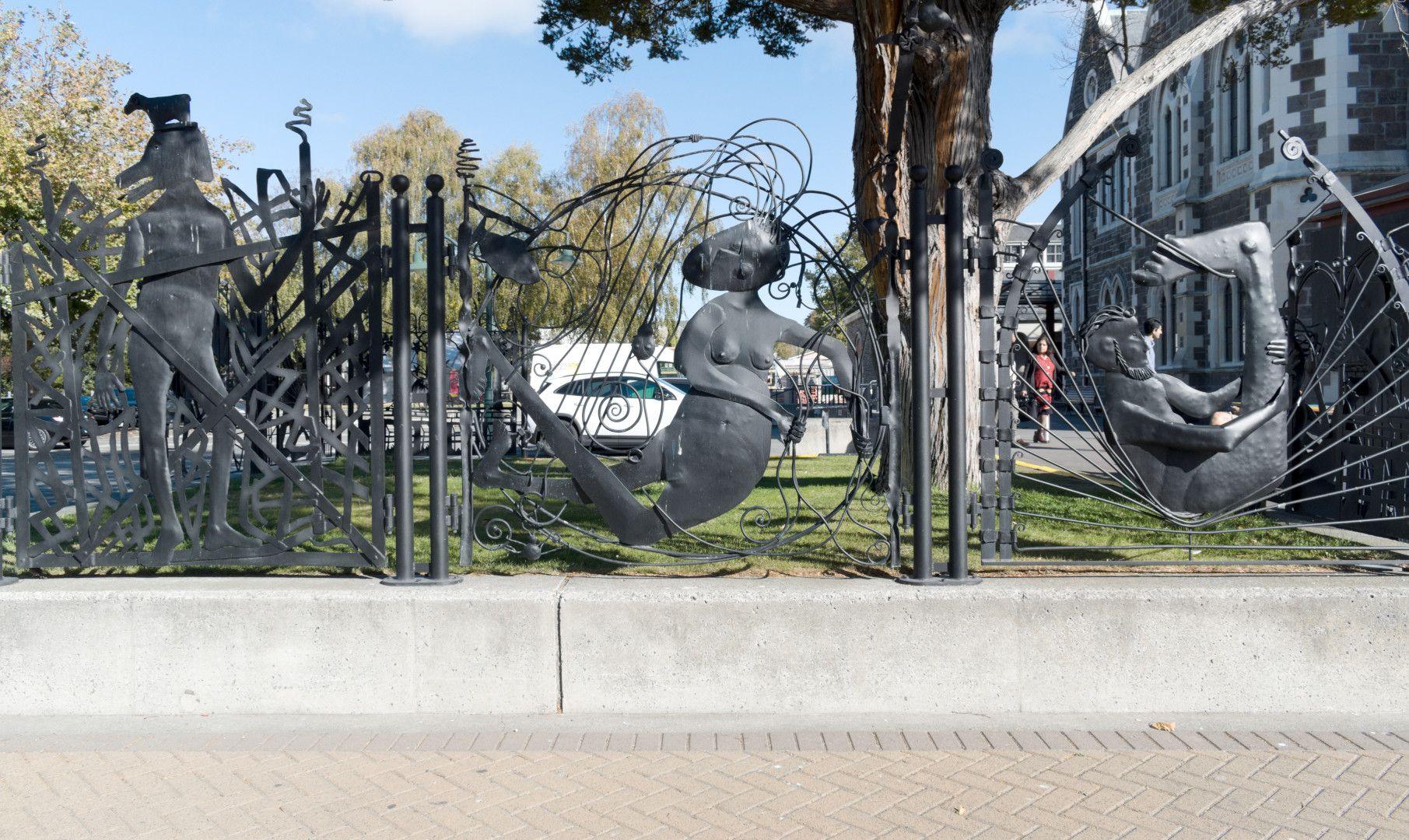 Description
Seven wrought iron fences decorated with a series of playful characters.
"The Christchurch City Council asked for submissions on the design of a children's play sculpture as a component of their plans to revamp the Cathedral Square. Bing Dawe approached Noel Gregg about collaborating on the project. Dawe then designed a draft that was accepted by the Council. Dawe's concept was for seven connected barriers each representing a figure from the Fabulous Races of Greek Mythology. Each figure imitates an attitude in agreement with the barrier theme. There is the man with the face in his chest (over), Antipode, the woman with her feet on back to front (through), woman with large ears (under), Cynocephalus, the man with the head of a dog (out), woman with six arms (around), Sciapod, the man with one large foot (on), and the Trees Sun and Moon (the forbidden garden).
The designs were translated onto steel that was cut and forged by Noel Gregg. Jim Wallace, director of the American Ornamental Museum at Memphis, Tennessee, was sponsored to come over and assist on the last panel. His contribution was a 'fantastic' flower.
The construction was completed in June 1990. Dawe finished off the sculpture with surface paint in red, green and golds. When the children's play sculpture was ready for installation the concern of where to locate it was raised amongst Council members. Eventually it was decided, and the sculpture was placed in the Square at the opposite corner to the children's area.
Views on the sculpture were polarised even before its installation. However when it was located in the Square the sculpture caused a large controversy. 'Hideous', 'obscene' and 'scrap iron' were just some of the words thrown round. In 1992 'The Reintroduction of the Fabulous Races' was gifted to the Arts Centre by the Council and resited on the grass lawn of Market Square in the Arts Centre."