Inanahi ki Tenei Whakatipuranga
Yesterdays, Yesteryears and the time in between until Tomorrow
1993
Stephen Hutton
Accessible
Medium
Glass
Crystal
Gemstones (unspecified)
Dimensions
Approx length: 12m (39.5m²)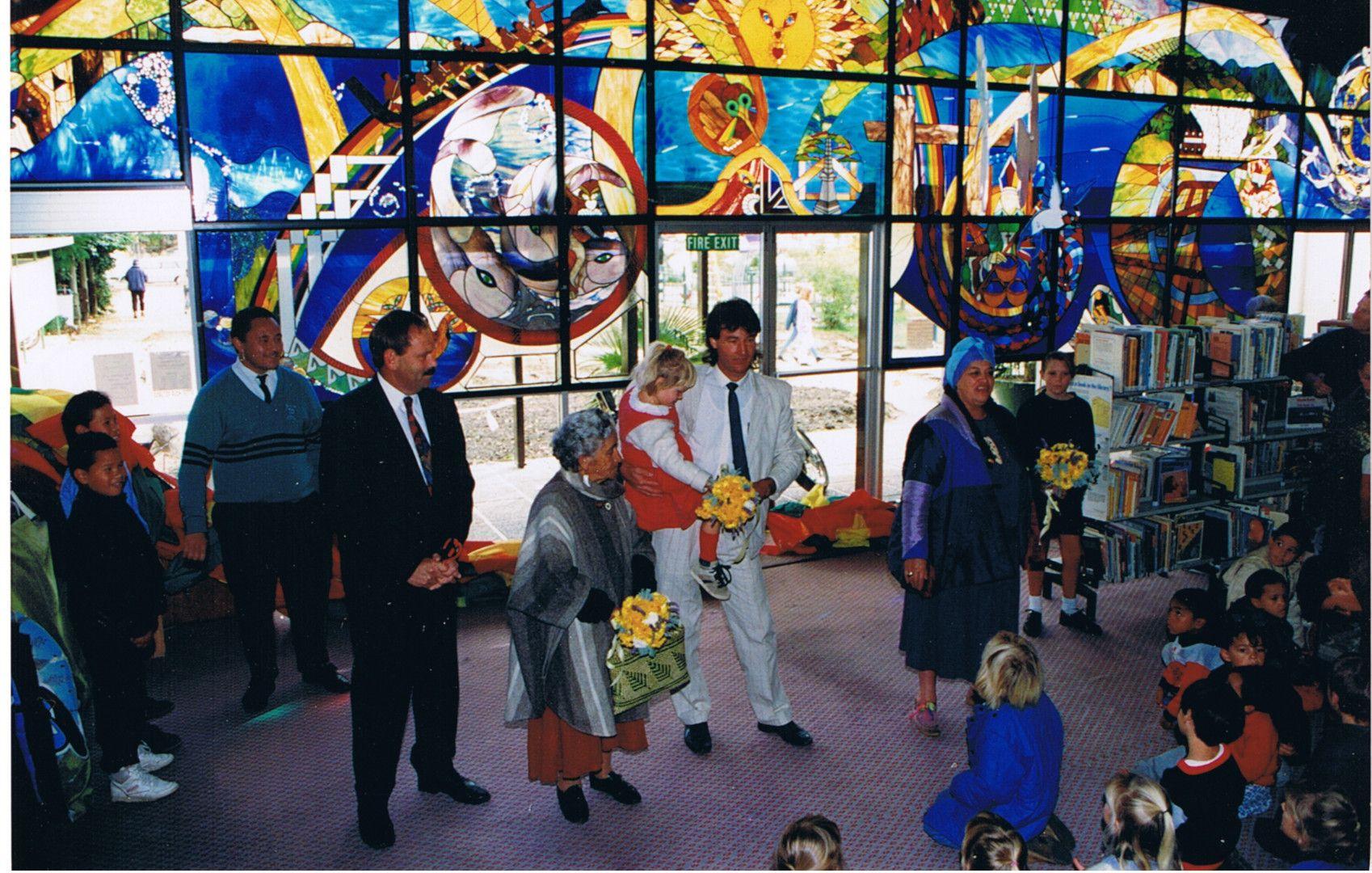 Description
Records suggest that H.B. Williams (or son?) and the Mayor at the time were patrons of the library and advocated for this work to be commissioned.
Hutton researched and formulated the concept for the work. This involved consultation with many Kaumatua, the three local Runanga, District Council committees and various other interested groups, business and individuals from the general public.
The moko, Māori carving and other sandblasted and etched kōwhaiwhai on the surface of some of the glass was designed by Keith Barbarich (Ngāti Rangi).
Ninety-five percent of the glass used was handblown, handmade glass selected in the United States of America by designer Steve Hutton. Māori Kaumatua monitored the construction of the mural, ensuring the window was historically and spiritually correct.
The window was constructed at N'light'N Stained Glass Studio by Stephen Hutton with Paul Thacker, Keith Barbarich, Bryan Lloyd and 30 others over a four year period.
At its unveiling on 1st May 1993 karakia was conducted by Dr. Rangimārie Te Turuki Arikirangi Rose Pere CBE and the work was unveiled by 'Auntie' Ada Haig and Mayor John Clarke.
The design depicts the passage of time and development of Tairāwhiti (Gisborne District) from volcanic origins to present day. Midway through the design is an impression of Te Toka a Taiau, a rock symbolising the boundary that lies between the Ngāti Porou and Rongowhakaata tribes. Crystal and shards of gemstones have been incorporated into the window encouraging close inspection.
Bahá'í symbols have been included in the right hand side of the mural.
The window was carefully deconstructed, stored for over a year, and reinstalled on a north-facing window during the 2018 upgrade of the library building.