Untitled [Napier Girls' High School]
1960
Rita Angus
Accessible
Medium
Encaustic Oils
Hardboard/HDF
Dimensions
6 panels. Total dimensions H4400m x W 5900mm (as measured by Carolina Iso). Dimensions also given as 4200 x 4800mm elsewhere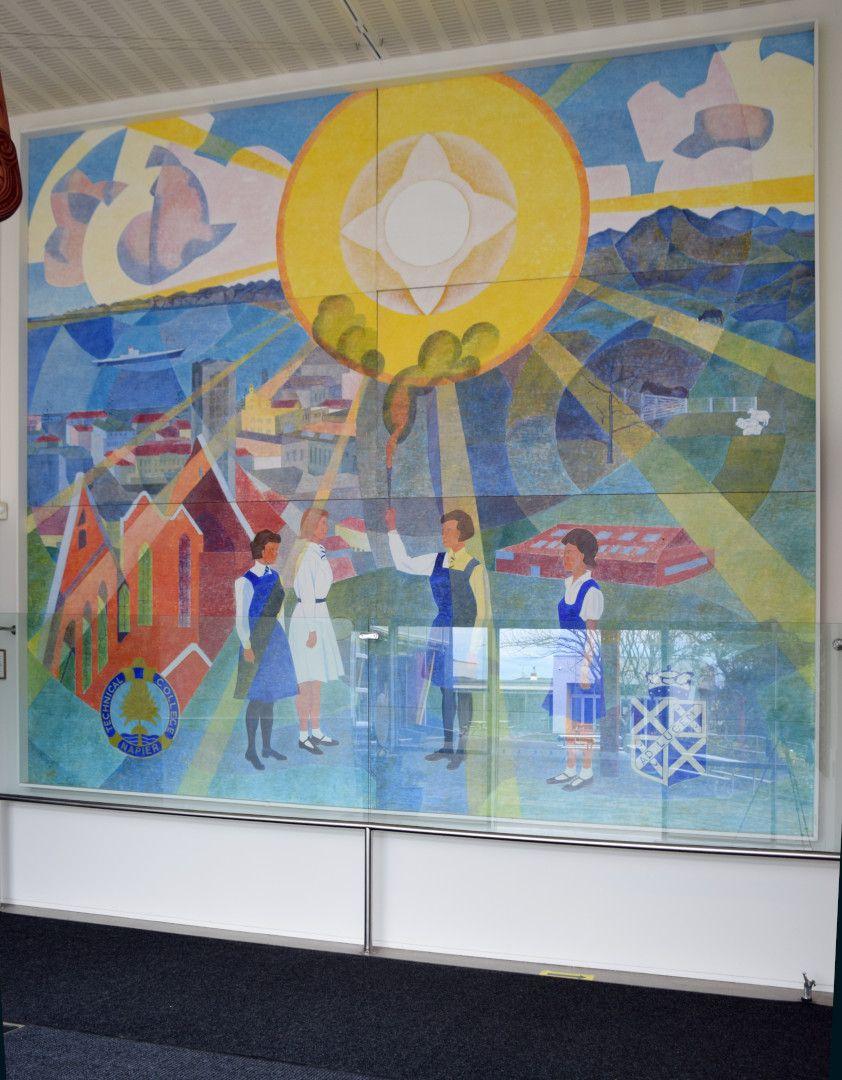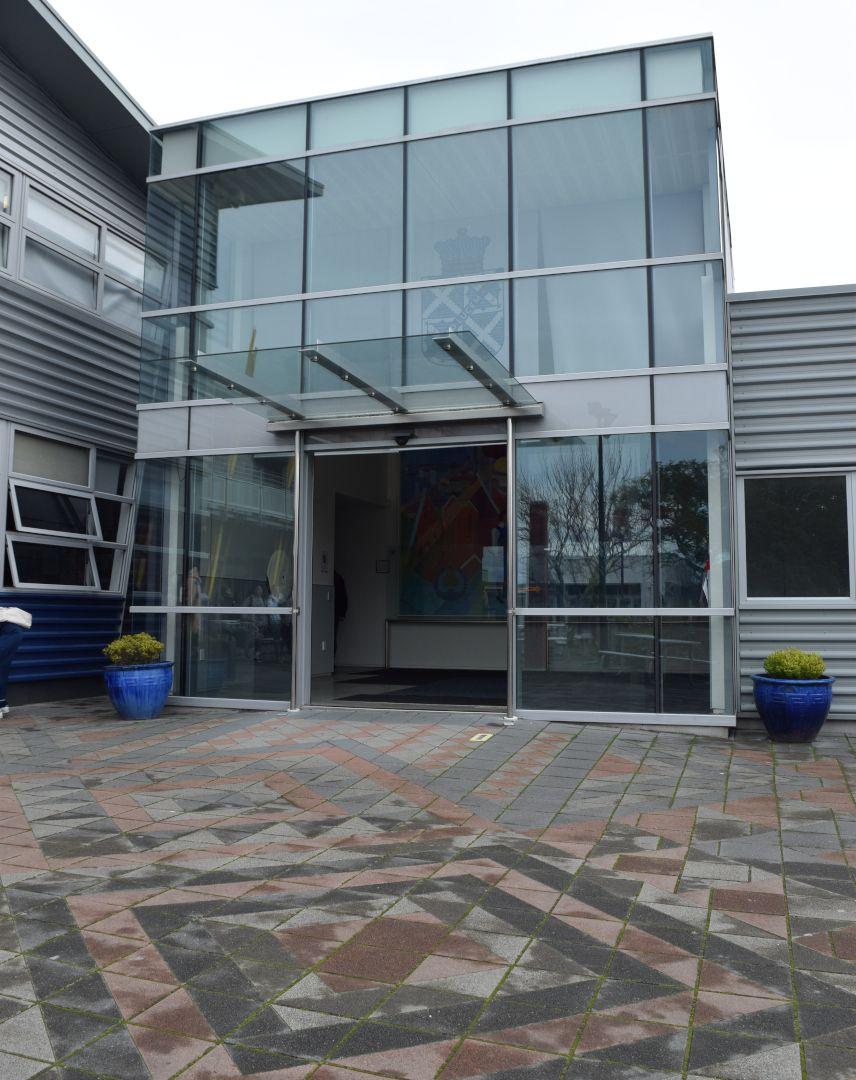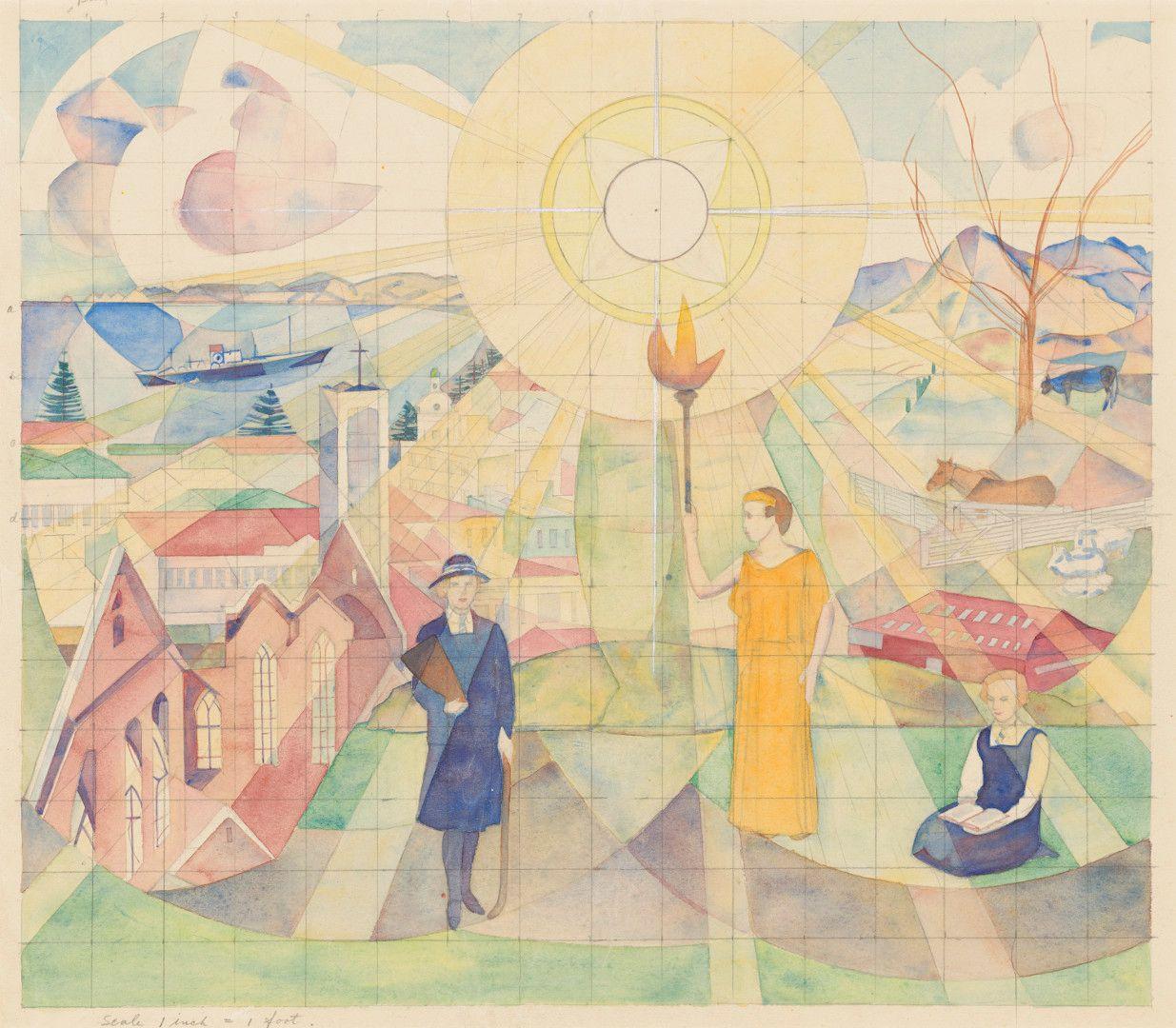 Description
The mural was originally located in the school hall, on the backdrop of stage area. Careful consideration was given to a new placement of the piece in the entry foyer to the hall, to maximise sight lines of the work.
Information installed next to the mural reads:
"A gift to the school from Miss E. M. McCarthy, M.SC., Principal, 1939-1953.
Painted by Miss Rita Angus, Dip. F.A., New Zealand Art Society's Fellowship, and unveiled by Miss E. M. McCarthy on 4th December, 1960.
The Mural is the artist's interpretation of Napier and of the two schools which merged in 1931 - the Napier Girls' High School and the Napier Technical College.
The sun, with its rays reaching over the whole picture, represents the motto of this school - Ad Lucem. Merging with it is the torch of the Torchbearer - the name of the School Magazine.
The ruins on the left represent the devastation after the earthquake. From them rises the new town, with the tower of the new Cathedral, its cross symbolising the Technical College motto - "Laborare est Orare", (to work is to pray). The ship in the bay represents the port and the commerce on which Napier depends. On the right is a touch of the country, representing the rich hinterland so vital to Napier, and to the school, for it symbolises the names of many generations of boarders and bus girls.
The eye is carried along the Parade to the Havelock Hills and the Kidnappers, the view we see from the school, and symbolically the wide outlook that education brings.
The school girl figures are: on the left, a Technical College girl. The white uniform was the 'dress uniform' of the school for many years. The torchbearer is in winter uniform, the girl on the right is in summer uniform, introduced in 1954.
The Mural has been painted in oil-wax, a method suitable for a work of a large scale. We think it is a medium so far unique in New Zealand.