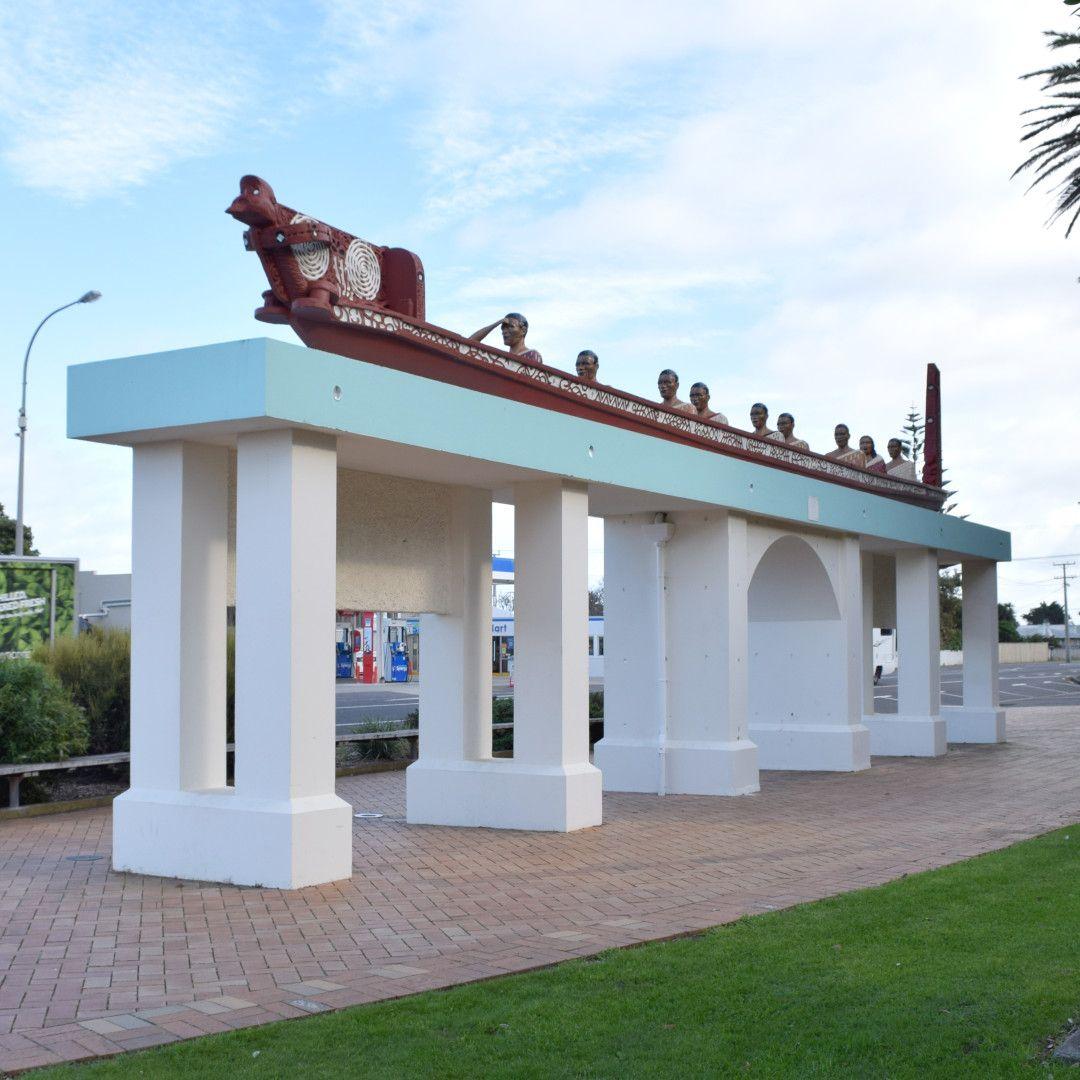 Description
The 'Aotea Waka' celebrates the settling of the Pātea area by Turi and his hapu after they voyaged from Hawaiiki to Aotearoa in the 15th century. They landed at Kawhia and travelled overland to Pātea naming many landmarks on the way including Tapuae, Oakura Waingongoro, Ingahape, Kaupokonui etc. The 'Aotea Waka' was unveiled 2 August 1933 by the Minister of Internal Affairs, J A Young.
"He [Rev T G Hammond] continually urged them not to forget the wish of Taurua that a memorial be erected to Turi. The Taranaki Maori Trust Board took up the idea....under the chairmanship of Tupito Maruera. The Borough Council was approached ...and with their agreement the site in front of the Town Hall was chosen. ...Mr F A Jones of Hawera suggested building it [the memorial] in concrete.... Towards the end, finance ran out and only four figures were in the canoe when it was unveiled August 1933." (Leslie et al.)
THIS IS A TOKEN OF REMEMBRANCE
ERECTED BY THE DESCENDANTS LIVING
THROUGHOUT AOTEAROA OF THEIR
ANCESTORS TURI AND RONGORONGO
THEIR FAMILY AND FELLOW VOYAGERS
HE TOHU WHAKAMAHARATANGA
TENEI NA URI E NOHO NEI I RUNGA
I TENEI MOTU I AOTEAROA
MO O RATOU TUPUNA MO
TURI ME RONGORONGO
ME TA RAUA WHANAU ME TO RAUA OPE
TE TAU 1933
"Since the commencement of negotiations Messrs. Tupito Maruera, Panenui Haurangaranga [sic] and Rima Whakarua have undertaken the most painstaking enquiries to ensure that the plans for the memorial would result in the construction of a canoe traditionally correct in every detail. The length and width of the canoe, the design of the stern and prow pieces and the ornamentation designating speed were important details whch were not left to chance, the completed work being unique in the history of New Zealand and of the Maori race. The modelling of the stern and prow pieces was done by Mr F. A. Jones, of Hawera, from specimen photographs supplied by the Native Arts and Crafts Society from its headquarters at Rotorua. Mr Jones also made four life-size figures —three warriors and one wahine—all elaborately carved. These were placed in the bow of the canoe together with other life-size figures carved by Mr Panenui Haurangaranga. [sic. - these may be the carved ponga figures replaced c.1956]
The stone figures represent Turi and his wife Rongorongo and members of their family and it is proposed that the carved wooden figures of their fellow-voyagers shall be replaced with permanent models when additional funds arc available for the purpose.
The Canoe, with its ornamented prow, symbolic of speed and its high stern-piece, is coloured red and the top platform of the pedestal on which it rests, is blue, to represent the sea, with shells inlaid at regular intervals and a fish modelled in plaster at one end. Beneath the platform are two large marble tablets, inscribed, one in Maori and the other in English."