Untitled [National Mutual Life Assurance Building]
1963
E. Mervyn Taylor
Lost
Dimensions
Approx. H2140mm x W7315mm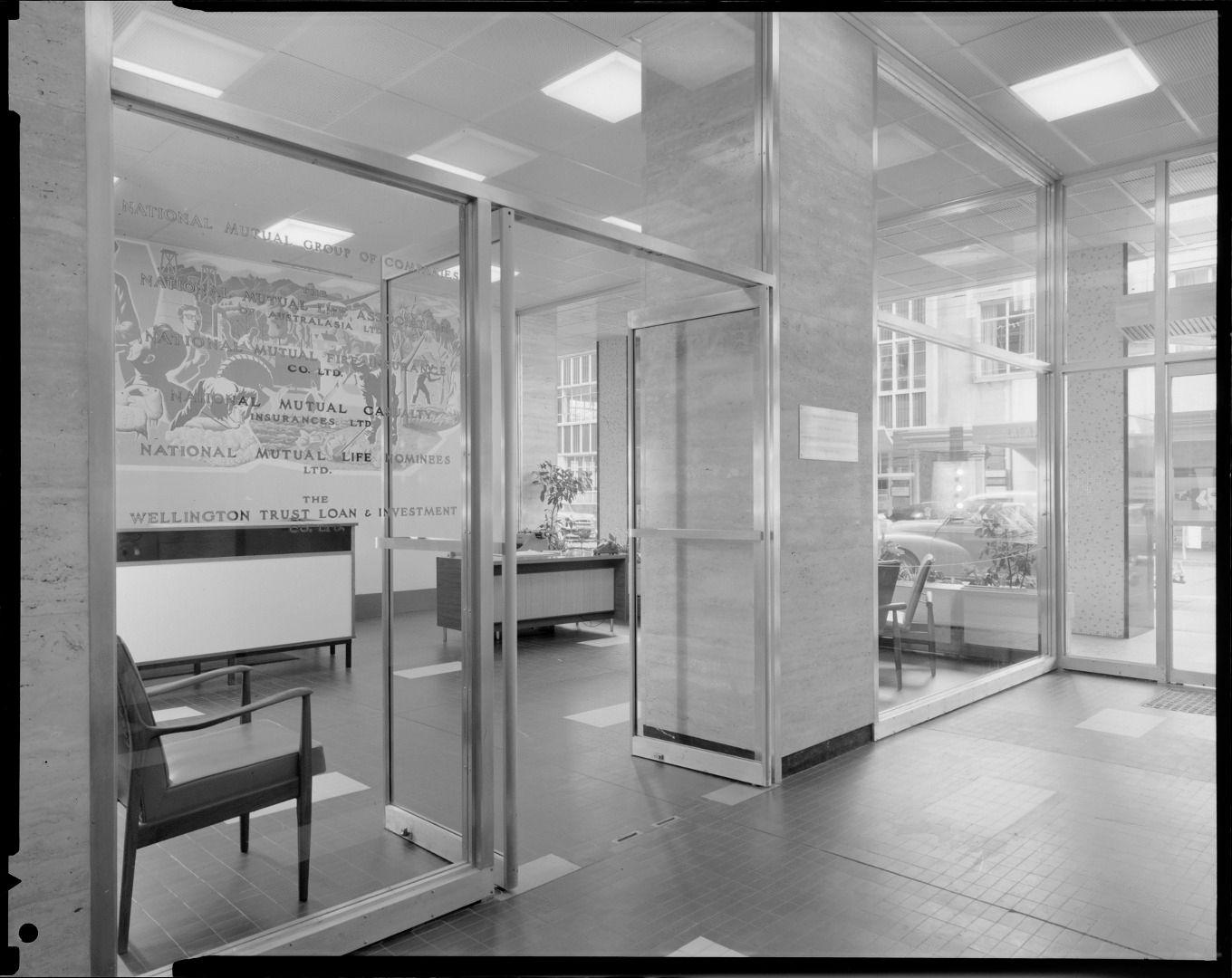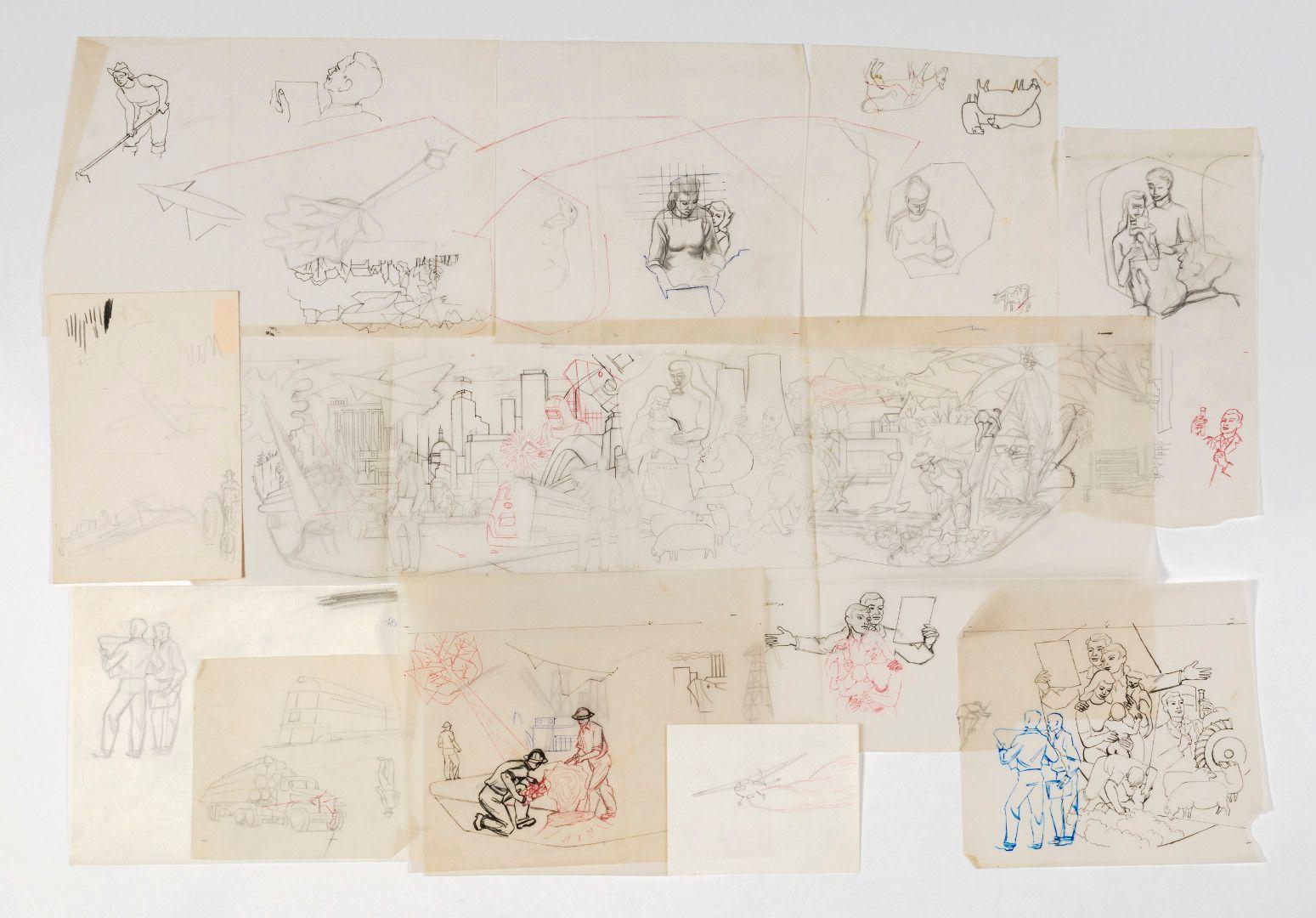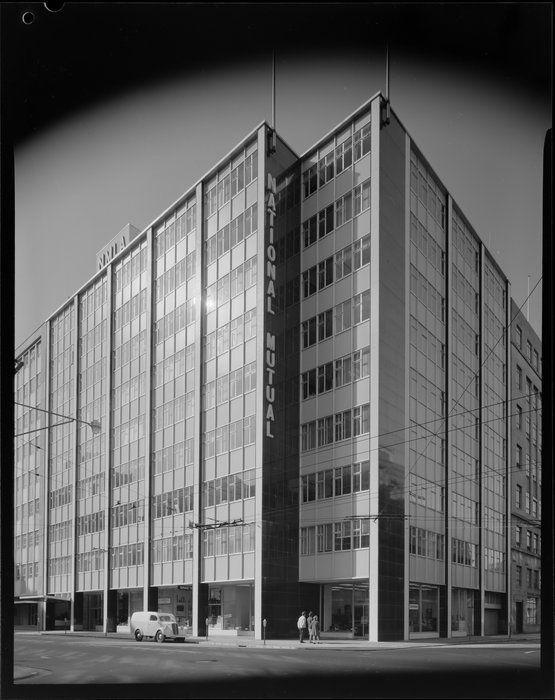 Description
Mervyn Taylor's mural for the interior of the National Mutual Life Assurance building in Wellington, now presumed destroyed, was commissioned in 1963 by architectural firm Gray Young, Morton, Calder & Fowler. The mural reads as a collage: images of workers, all men, most likely Pākehā but possibly also Polynesian, performing a range of white- and blue-collar tasks in a smorgasbord of crisply illustrated environments — urban, rural, suburban and a very tidy 'untamed' wilderness. At the centre a woman looks down at a baby in her arms while a man looks up at her, holding a piece of paper in his hand—an insurance salesman, here either to make good on the woman's dead husband's policy, or to reassure her (but really to reassure her husband, whose earnings will pay for the policy) that should anything happen to said husband while he is busily keeping the country ticking over, there will be some compensation. Some life insurance.
Taylor's mural was behind the reception desk in the downstairs lobby of the building, halfway down Featherston Street, in the CBD. I say the building 'was' there, but that's not entirely accurate—it's still there, sort of, its form mutated, its purpose significantly revised. In the 1980s, National Mutual moved to another building. In 2000 the Accor hotel group opened one of its Ibis hotels in the building. Renovation plans for the hotel indicate that the mural's wall was destroyed, although the artwork may have already been painted over or covered up in some way before this.
- Text adapted from Sarah Jane Parton's essay "Assurance" in Wanted: The Search for the Modernist Murals of E. Mervyn Taylor (Massey Press, 2018).
The mural was painted directly on the wall. The type of paint used is not known.