Te Wehenga o Rangi rāua ko Papa
1974
Cliff Whiting
Accessible
Medium
Mixed Media
Hardboard/HDF
Harakeke (Flax)
Wood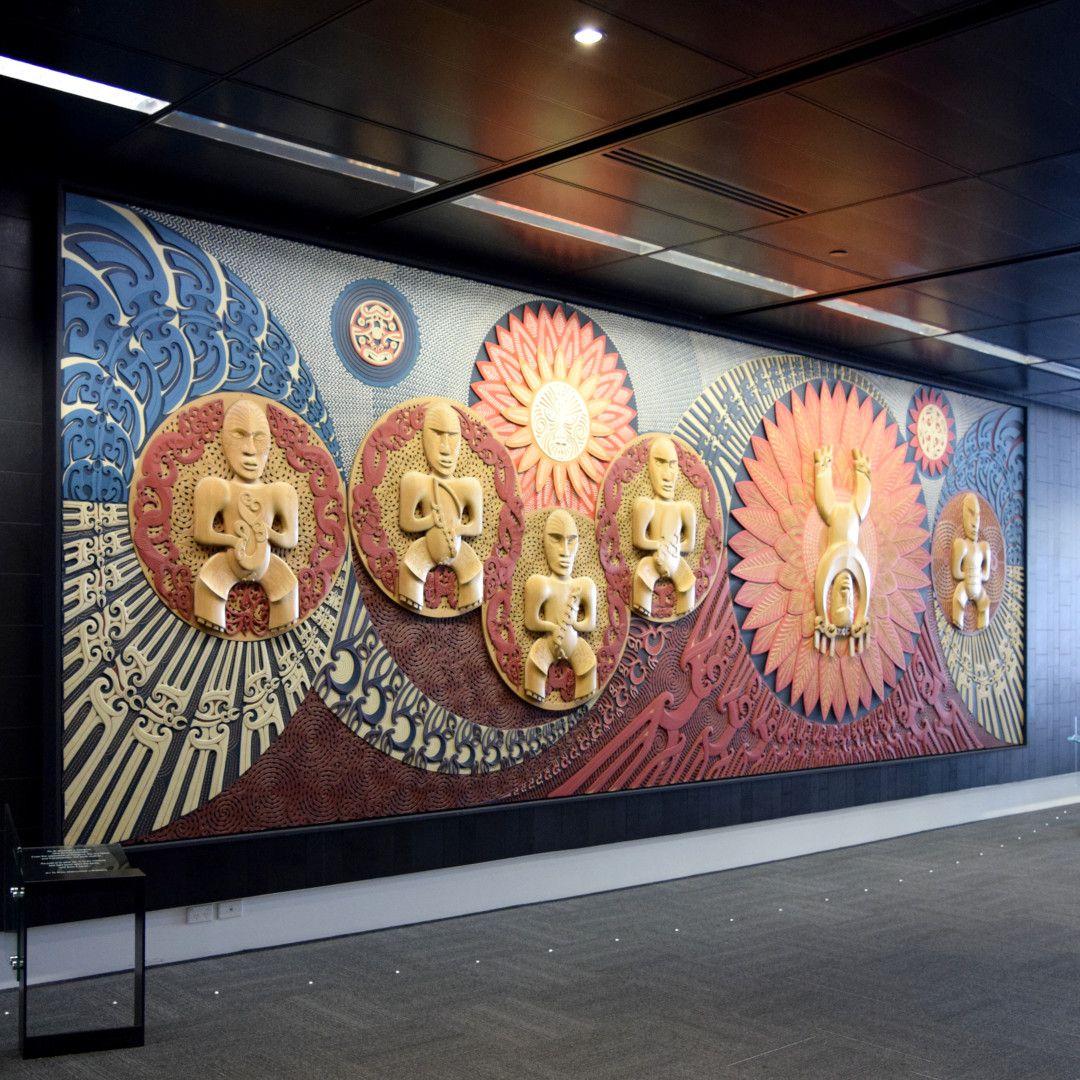 Description
The work was created over a five year period and is made from hardboard, harakeke and other grasses, with figures carved from kahikatea.
It presents the wehenga (forcing apart) of Rangi (sky father) and Papatūānuku (earth mother) by their son Tāne Mahuta (god of the forests) thereby allowing light to enter the world. Tāne is shown upside down as it was only by using his legs that he was strong enough. Tāne, along with his five brothers, Tangaroa (god of the sea), Haumia (god of uncultivated foods), Rongo (god of cultivated foods), Tūmatauenga (god of war), and Tāwhirimātea (god of the winds and weather), for the pantheon of Māori atua (gods).
"Ko te wehenga o Ranginui rāua ko Papatūānuku
From the separation of Ranginui, the sky father and Papatūānuku, the earth mother,
Ka puta ki te whai Ao, ki te Ao mārama
first light burst upon the world, and from it came…
Ko Te Puna Mātauaranga o Aotearoa.
a well-spring of knowledge and understanding"
"Cliff Whiting, Te Whānau-ā-Apanui, was born in 1936 and grew up in Te Kaha in the Bay of Plenty. As an educationalist, artist, and leader in the field of marae conservation, Cliff Whiting was a major figure in the Māori art world. In 1998 he was appointed to the Order of New Zealand. Cliff died in 2017.
He Toi Whakairo, He Mana Tangata
Artistic excellence is a man's dignity."
The work was first displayed in the Waikato Art Gallery in Hamilton before being exhibited at the South Pacific Festival for the Arts in 1976, held in Rotorua (IC book).