Kaiwhakatere
The Navigator
1999
Brett Graham
Accessible
Dimensions
Manu: H3520 x W5000mm xD1560; Waka: W6300 x H2550 x D1220mm; Tuahu H4750 x Dia1800mm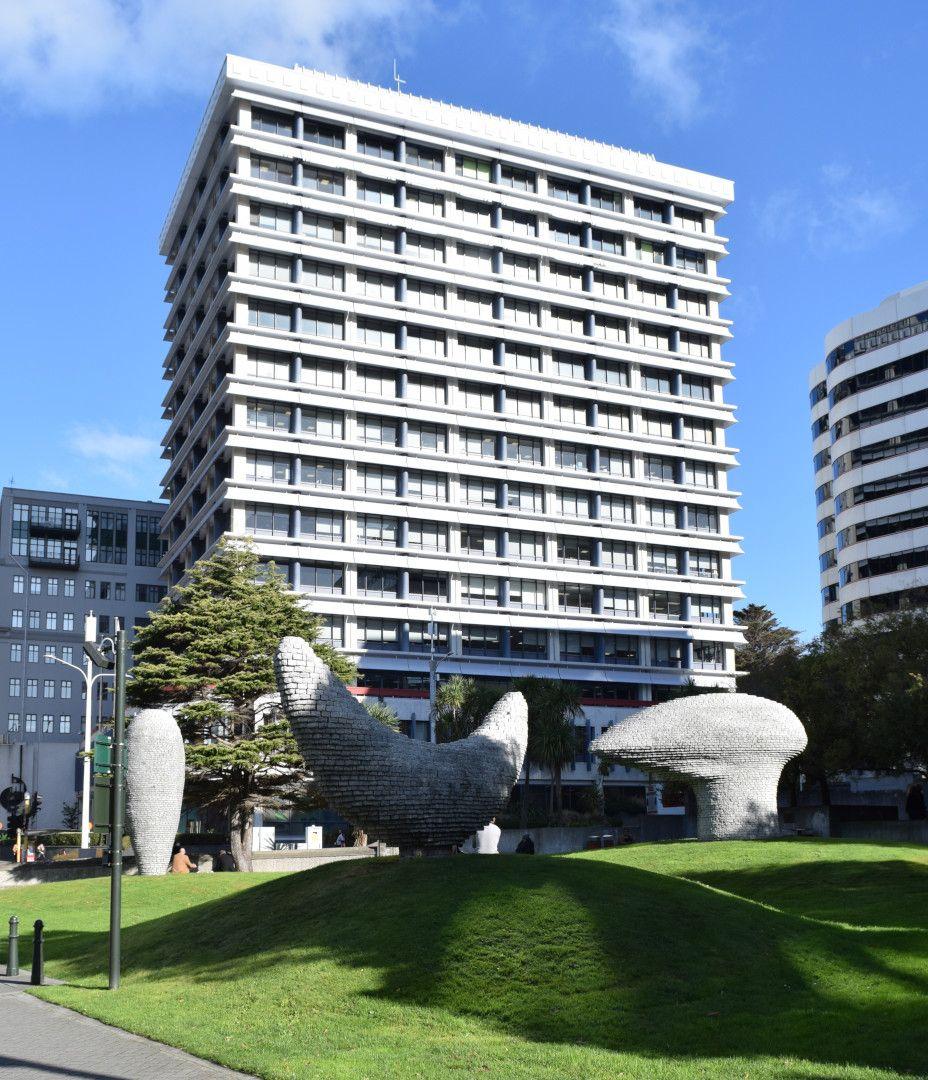 Description
Located on a site within the Parliamentary precincts, "[i]t is a work that is centred around the idea of traditional Polynesian navigation. Traditionally the positioning by Māori and Eastern Polynesian peoples of tūāhu made of stones marked their arrival on new lands. The tūāhu would very often have been positioned alone in the landscape. In this case, Graham's tūāhu sits alongside a colonial marker of arrival in new lands – the establishment of a largely Pakeha government and Westminster-style Parliament. Points of interaction, similarity and exchange make for interesting confrontations between these two symbolic structures as visual markets of the arrival and settlement of two cultures." (Harper & Lister)
'Kaiwhakatere' was commissioned by the Wellington Sculpture Trust in honour of Henry Lang, a co-founder of the Trust and former Secretary of the Treasury. The navigator is an appropriate theme as he demonstrated great leadership throughout his life.
Plaque installed with the work reads:
"Henry Lang/TOWER Sculptures / Kaiwhakatere: The Navigator / by Brett Graham
These sculptures refer to navigation: / the waka (canoe), bird head (manu), and the tuahu (an altar of / stones built on arrival).
They acknowledge the site which is near the original / shoreline where canoes were launched and kaimoana was / gathered; the two papakainga in the vicinity, pipitea and / kumutoto; and the proximity of parliament in the present day.
Throughout Polynesia, the navigator is exalted as pathfinder, / innovator and visionary—qualities necessary for discerning / leadership.
These values were found in Henry Lang, 1919-1997, an outstanding public / servant as secretary to The Treasury, and a long-time chairman of Tower. / Henry Lang was co-founder of The Wellington Sculpture Trust in 1982. / The sculptures were erected by The Trust in honour of this / remarkable New Zealander.
Wellington Sculpture Trust gratefully acknowledges the support of the corporates, trusts, businesses, families and individuals who have contributed to this project.
The work consists of 3 large pieces: A waka, manu (bird head) and tūāhu (altar forms). It explores the history of early Māori navigation and their arrival in Aotearoa. The work also references the closeness of the site to the original shoreline. The forms are clad in raw faced cubes of granite which are arranged in regular layers. This results in the complex curves of the surface being readable as constructed rather than carved.