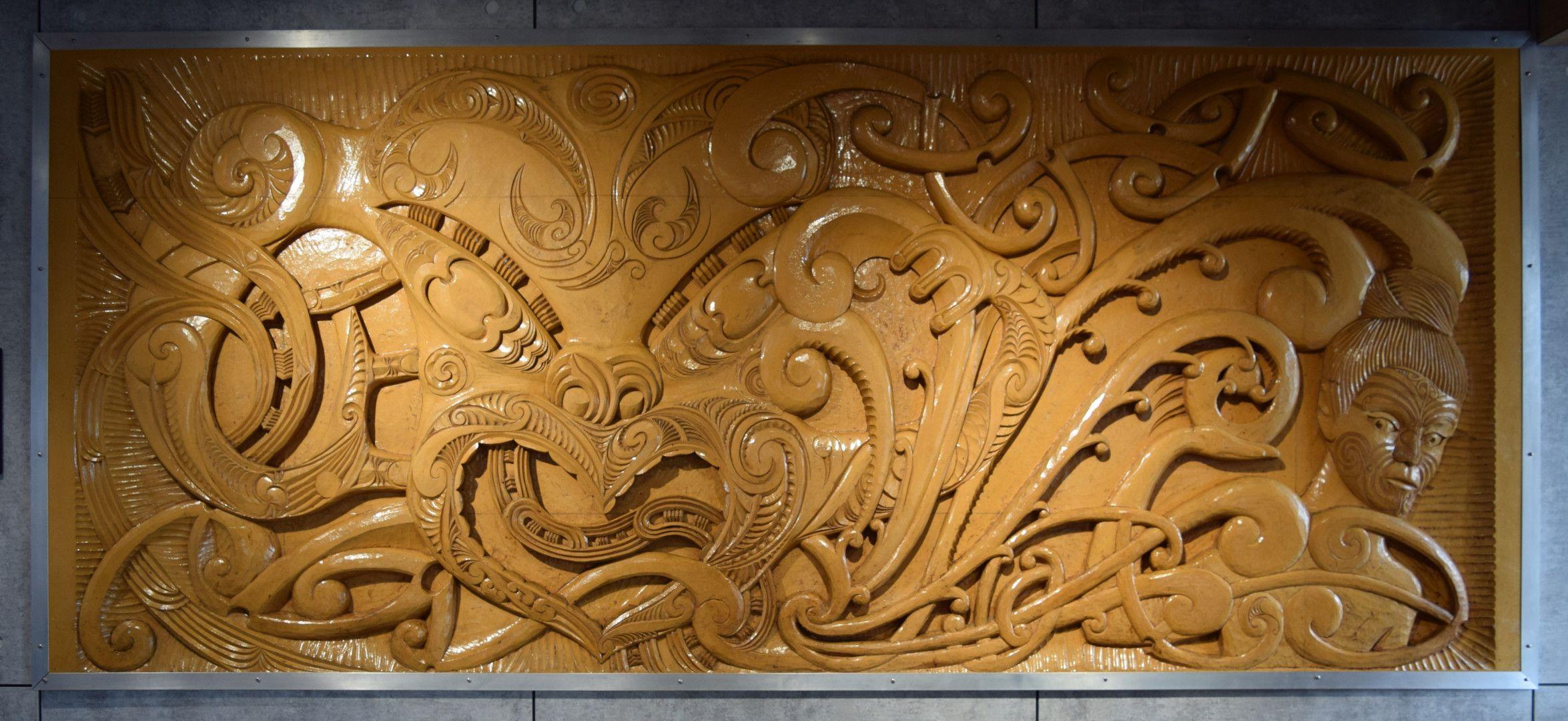 Description
In 1981 McDonald's Rotorua commissioned Tuti Tukaokao to produce artworks for their new building. Tukaokao created a total of 3 pou, 5 murals, 7 kōwhaiwahi panels and other internal carvings. He also completed an external sculpture in 1997.
"Hatu Patu and Kurangaituku: this carving tells the story of these characters. Hatu Patu was making his way home from the Atiamuri area. He was captured by Kurangaituku, a bird priestess. Hatu Patu escaped form Kurangaituku's cave but was pursued by her as he made his way to where the Taupo/Tokoroa intersection is today. He hid behind a large rock and her claws made great scratches on its surface, which can still be seen today. When they eventually came to Whakarewarewa near Rotorua, Kurangaituku made a final dive for Hatu Patu. He dived into a pool of cold water. She missed and ended her life in a hot pool nearby. These pools can still be seen today. The 'door' serving as Hatu Patu's refuge is an integral part of this lively mural. "
This work is one part of a diptych. The accompanying panel featuring Kurangaituku is now missing. This panel can be seen in a photograph of the work published in The Carver and the Artist (2008, pp172-3) by Damien Skinner
A commemorative pamphlet published by the McDonald's franchise owners of the time, Megan and Philip Mules, describes the diptych thus:
"Hatu Patu's encounter with Kurungaituku...the bird woman...has a somewhat local flavour as the mountain from which Kurangaituku emerged to chase Hatu Patu, and the rock in which Hatu Patu sought refuge are situated not far froM Rotorua on the Atiamuri Highway.
"Here again, the decoration is restricted to the background in order to emphasise the bold main figures. The door, serving as Hatu Patu's refuge, is an integral part of this lively mural."
"Here, the depiction of Hatu Patu's flight from the clutches of Kurungaituku takes on a more traditional form with a highly decorative style of carving being prominent.
"Recognised motifs such as the koru appear and the figures of Kurungaituku and Hatu Pautu take on a more traditional form. Here Hatu Patu shelters in the undergrowth as the bird woman passes nearby searching for him."