He poupou tohu ahi-ka o Ngai Tahu
A mark of the long burning fires of Ngai Tahu
Poupou
Te Ahi Kā
1994
Riki Manuel
Accessible
Dimensions
Approx. H6000mm x 828mm diameter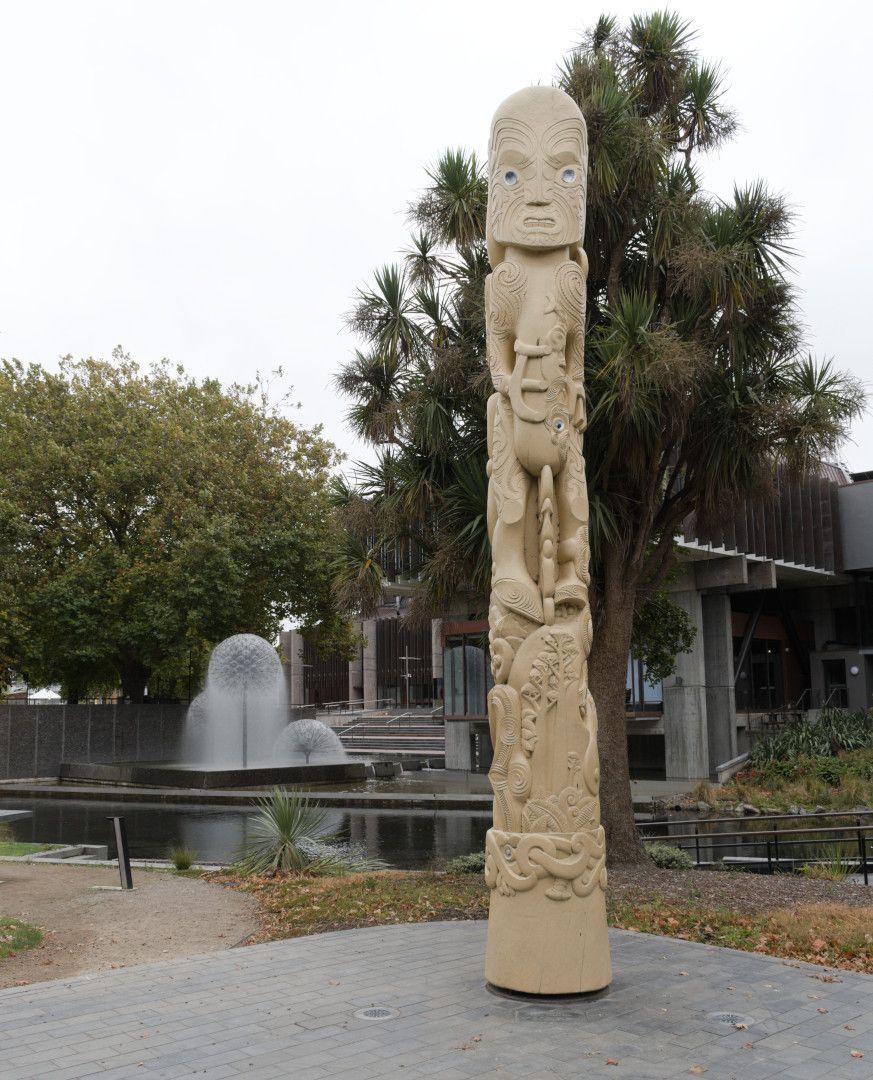 Description
"... The carving was created by the master carver Riki Manuel. Riki Manuel trained under John Taiapa for three years at the Maori Arts and Craft Institute in Rotorua. The work for Victoria Square was commissioned by the City Council in conjunction with the Ngai Tahu Maori Trust Board. Although the work took three years to organise the poupou took only twelve months the complete.
The poupou is carved out of a totara log one metre in diameter, and was given by a West Coast farmer. Totara is a timber that is prized for carving. The main theme of the poupou is Raki and Papa, the Maori story of the 'beginnings', the characters of the legend are represented in the carving. The poupou represents all inhabitants of the Christchurch region, their ancestry and their resources. The location of the poupou also relates to the old Pa site Puari, their food resources, and the collection and conservation of these resources."
"The Pou tells of Rakinui and Papatūānuku, celebrating the story of beginnings, that of Māori and of more recent settlers, and is carved from a tōtara log sourced from the Tai Poutini, the West Coast. The Pou also relates to the ancient pā site Puari. Puari was the name of an early Waitaha settlement which stretched from the banks of Ōtākaro Avon River at Victoria Square out to Bealey Avenue in the years between 1000 and 1500. The loop in the river that encompassed the site was an important mahinga kai (food gathering area). While little is known about this settlement or its occupants, many taonga (treasured possessions) have been found in this region. At its height the pā would have been home to about 800 Waitaha people."