Waiwaiā paenga rau
Waiwaiā of many resting places
1985
Paki Harrison
Harrison whānau
Accessible
Type
Whakairo
Tukutuku
Wall Mounted Sculpture
Medium
Paint
Paua shell
Textile
Hinges
Wood
Dimensions
Carving: H1870 x W200 x D460mm; 2 Tukutuku: H1870 x W500mm approx.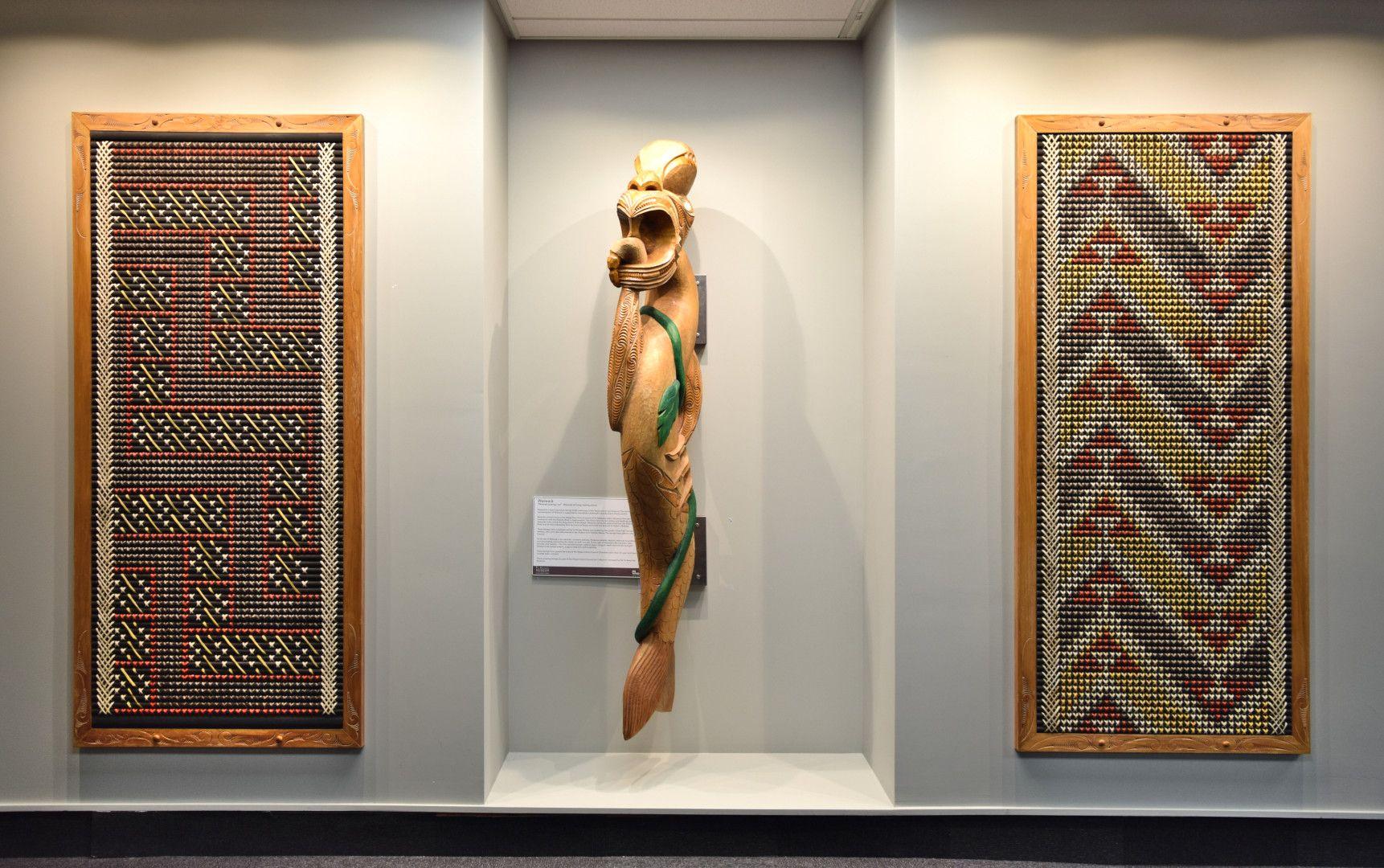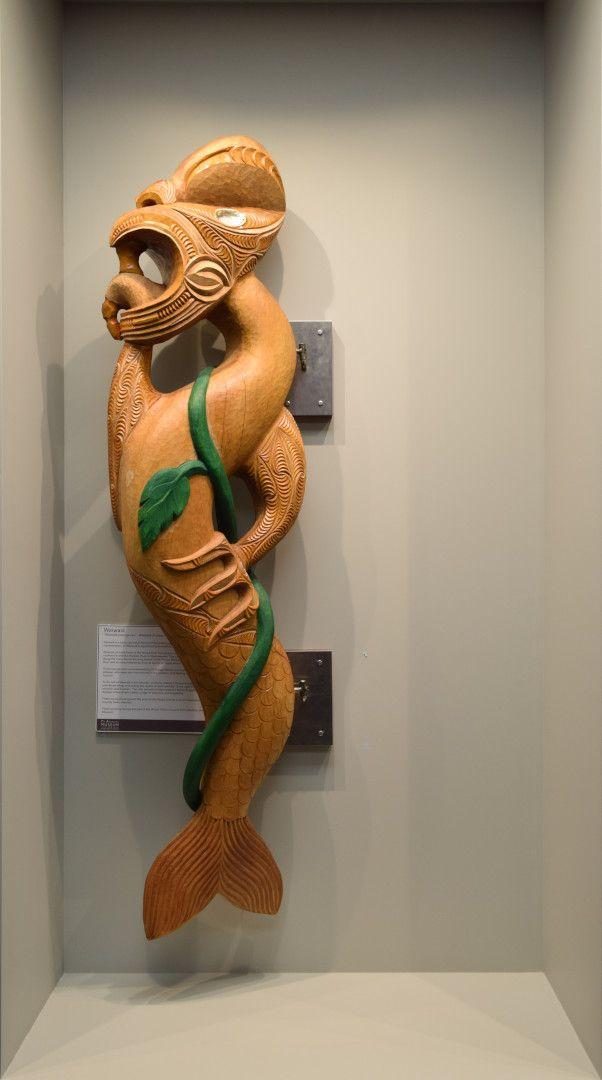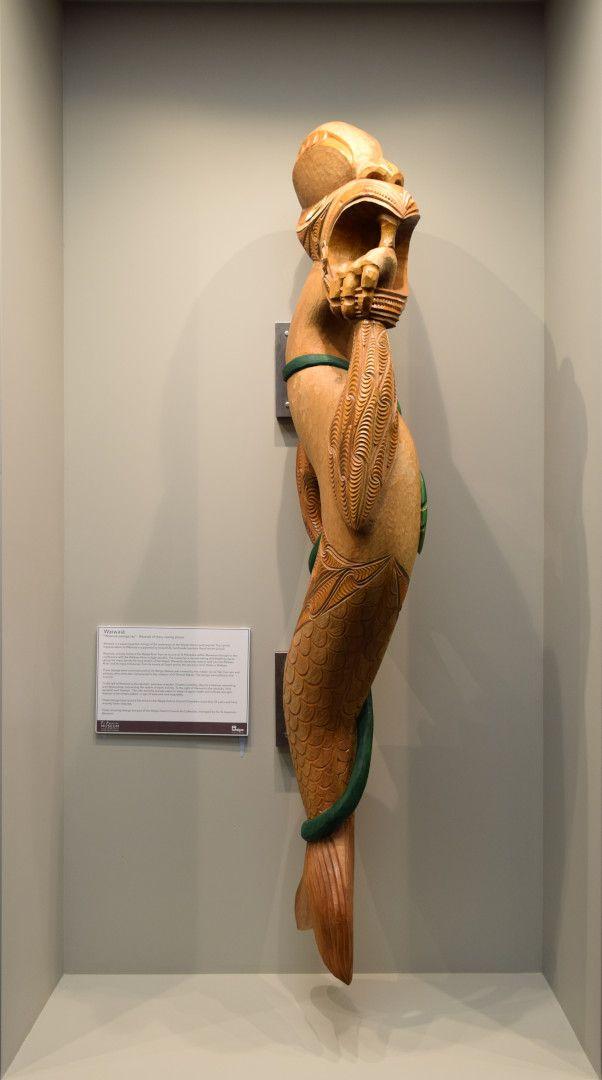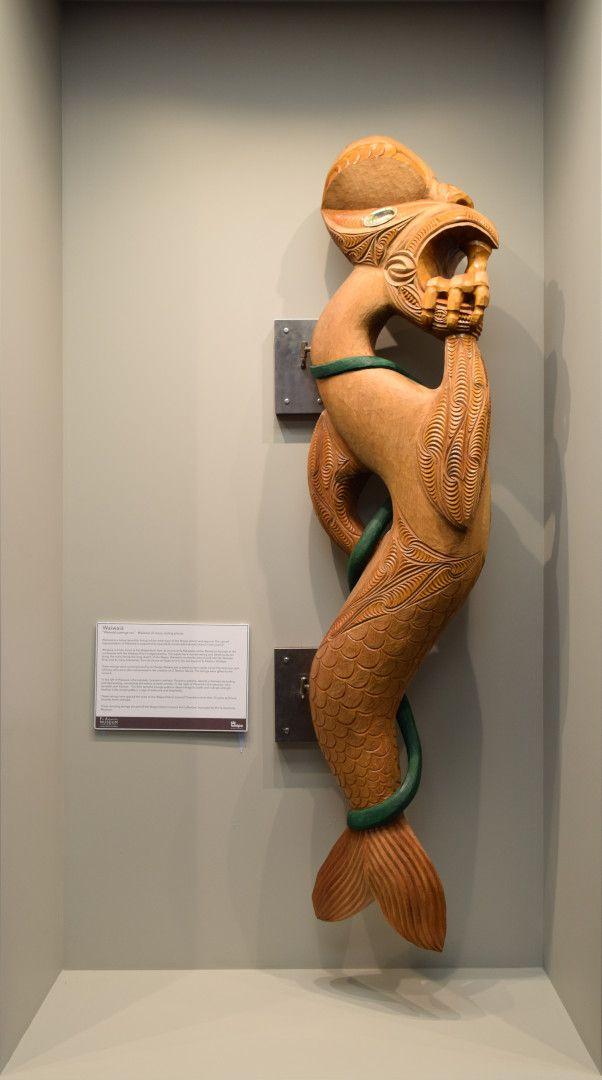 Description
An information panel installed with the work reads:
'Waiwaiā Paenga rau' Waiwaiā of many resting places.
Waiwaiā is a tupuna (guardian being) of the waterways of the Waipā district and beyond. The carved representation of Waiwaiā is supported by beautifully handmade tukutuku (hand woven panel).
Waiwaiā, primary home is the Waipā River from its source at Te Pekepeke within Maraeroa through to the confluence with the Waikato River in Ngāruawahia. The tupua has a myriad resting and dwelling places along the many bends the long stretch of the Waipā. Waiwaiā's territories extend well into the Waikato River and its many tributaries, from its source at Taupō and to the sea beyond Te Pūaha o Waikato.
These taonga were commissioned by Dr Rongo Wetere and created by the master carver Paki Harrison and whānau, who were instrumental in the creation of O-Tāwhao Marae. The taonga were gifted to the Council.
To the left of Waiwaiā is the tukutuku 'poutama aratiatia'. Poutama aratiatia, depicts a stairway ascending and descending, connecting the realms of earth and sky. To the right of Waiwaiā is the tukutuku 'niho taniwhā' and 'kaokao'. The niho taniwhā triangle patterns depict dragon's teeth and indicate strength. Kaokao is the armpit pattern, a sign of welcome and hospitality.
These taonga have graced the entry to the Waipā District Council Chambers more than 20 years and have recently been restored.
These amazing taonga are part of the Waipa District Council Art Collection, managed by the Te Awamutu Museum. "
Ōtāwhao Marae opened at Te Awamutu College in 1985. The marae saw the origins of the Waipa Kōriki Arts Centre (opened in 1984), that later transformed into Te Wānanga o Aotearoa under the leadership of Wetere."