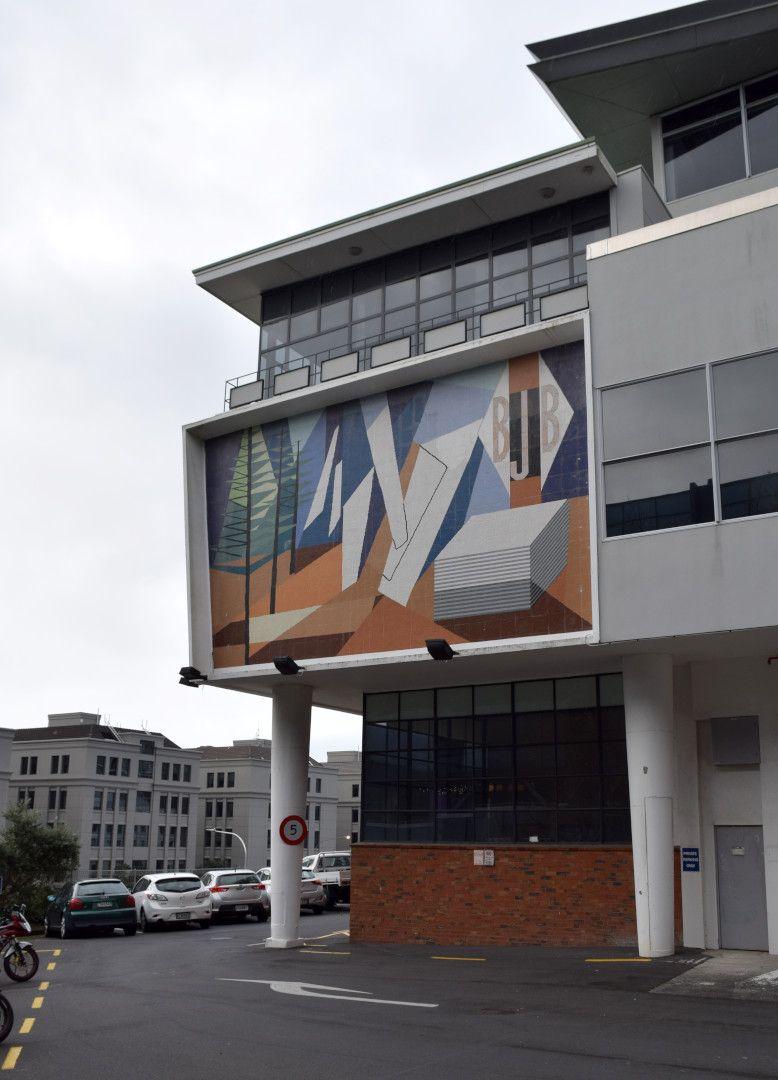 Description
Referencing paper, the mosaic mural on side of the B.J. Ball Building sits firmly within the modernist tradition. Milan Mrkusich's work was concerned with the truth of colour and form and the response that colour brings from the viewer.
After his work at Brenner's ended, Mrkusich carried on doing mosaic work. Intact though significantly altered, the B.J. Ball Building is a long, low, modernist structure on the corner of Graham and Hardinge Streets, designed by the engineering firm McKay, Crosley and Gerbic, and constructed during the years 1958–63. Mrkusich was commissioned to design a large mosaic mural for the western exterior façade.
Julian Dashper writes that Mrkusich made full size plan drawings "which he rolled up and posted to Italy, where a master tile maker made a complete mural on the floor, turned it upside down into hundreds of little boxes and sent it back to New Zealand" for reassembly.[1]
This mosaic is a continuation of Mrkusich's work for Brenner, appropriately based on Bauhaus principles. The representational aspects of the mural advertise the role of B.J. Ball (NZ) Ltd: a paper-importing company, illustrating the process of producing paper, from the raw resource (trees on the left of the composition) to the stack of paper at the lower right. The mural is like a picture that has been added to the building, rather than an integral part of the structure. Its frame insulates it from the surrounding environment, as if to emphasise that this is 'art' and that Mrkusich, post-Brenner, has irrevocably assumed the status of 'artist'. As Francis Pound has noted, 'the frame is a familiar sign of "depictivity", a sign we see not the world, but a depiction of the world'.
In 1997 the Historic Places Trust notified a plan to give the B. J. Ball Building a category one listing on the historic places register partly because of the mural's artistic significance.[2]
-- text courtesy of Linda Tyler.
[1] Julian Dashper, "An Artist's Look at Auckland's Public Art", Modern New Zealand, No 1, p 2-9, 1995.
[2] NZ Herald, 4 March 1997, A9.