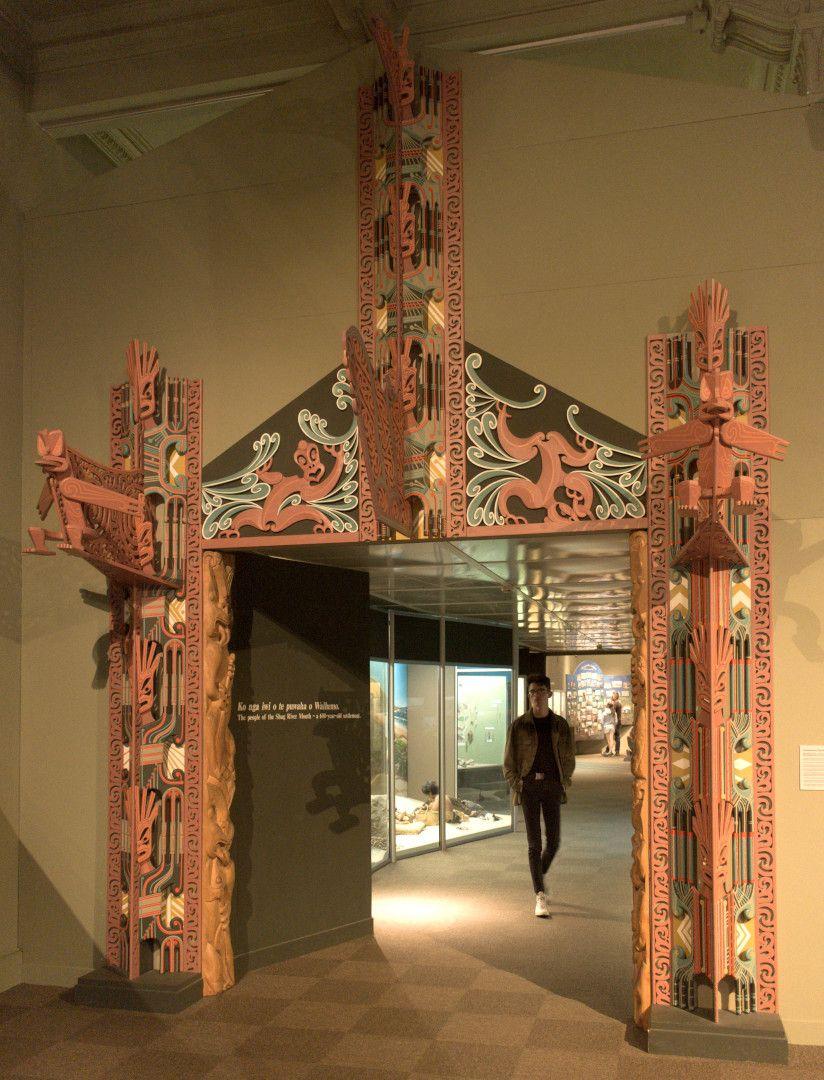 Description
"This carving was made for the Otago Museum by the manawhenua of the Otago region under the guidance of the artist Cliff Whiting. A dedication ceremony was held for the gateway at the Otago Museum on 27 November 1990.
The carvings on the front of the gateway depict the three canoes Uruao, Araiteuru and Takitimu:
On the left, the Uruao canoe is shown with Rokohouia, son of Rakaihautu, and Hawea ki te Raki, founder of the Hawea tribe. The lower figures represent the early Rapuwai and Waitaha peoples.
In the centre is the Araiteuru canoe and the ancestors Puketapu, Matakaea and Pakihiwitahi. To their left is Kiwa-nui-a-tane, shown grasping the west and east coast tides and to their right is Hipo, kaiurungi (steersman) on the Araiteuru.
On the right is the Takitimu canoe, which capsized in Te Waewae Bay, Foveaux Strait, after being hit by the last of three great waves. The Takitimu's overturned hull is represented by the Takitimu Mountains and its sails are symbolised in the Waimea Plains.
The totara wood figures represent four important South Island ancestors:
On the right are Aoraki, whom South Island Maori traditions credit with bringing the island and Mt Cook into being and Tamatea, the first of the Kai Tahu ancestors to cross Cook Strait and explore the South Island.
On the left are Rakaihautu, who carved out the southern lakes with his digging stick and Roko-i-tua who tried unsuccessfully to introduce kumara to the southern people and is associated with the building of the Araiteuru canoe."
~ text from wall panel installed next to the work
Waharoa was commissioned by Otago Museum for the opening of the Tangata Whenua Gallery. Materials include tōtara and customwood/MDF.