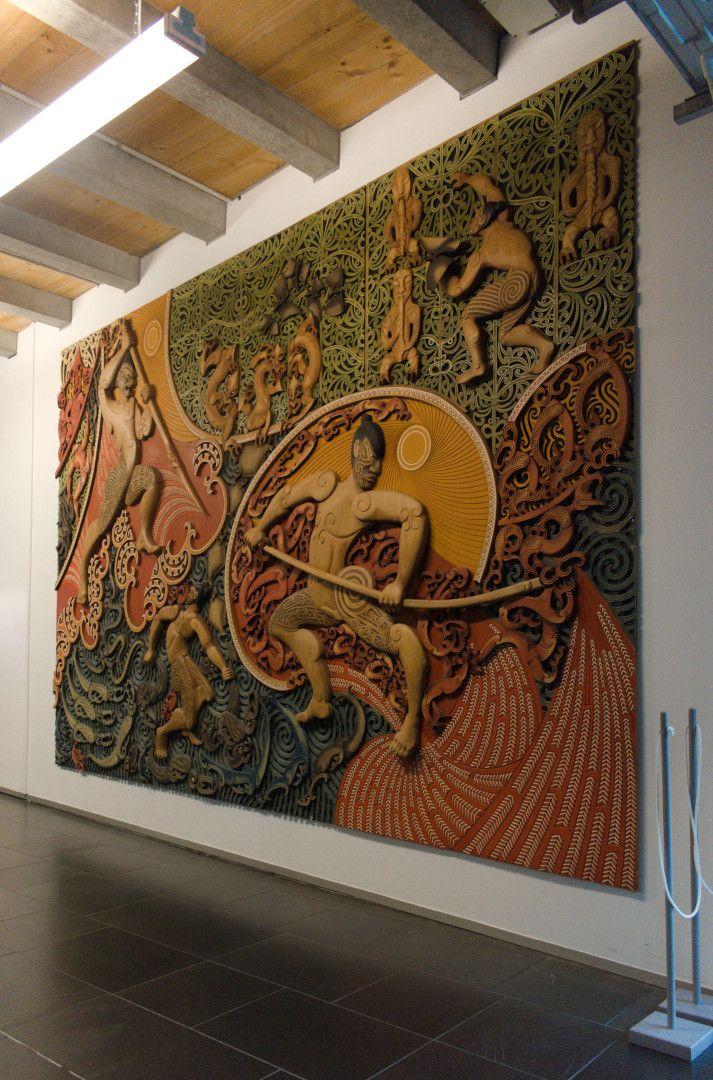 Description
This piece is an early example of the use of MDF in Cliff Whiting's work. The piece depicts the Māori creation story - the coming into being of the world of the gods.
The current location is not the original installation. The work was moved, possibly during renovation of Rakaia Centre, completed by Athfield Architects c.1997-1999.
This work, also sometimes called 'Te Waka o Aoraki' (Aoraki's canoe) was commissioned when the John Hercus Centre (Block A) was constructed in 1986. Completed in 1988, the work was unveiled by the Hon Peter Tapsell, July 15, 1988.
The mural depicts the origins of Aotearoa and how it emerged from beneath the great sea of Kiwa. With the union of Raki (Rangi) and Papa-tua-nuku their children from previous unions also came together. Four sky-children, sons of Raki: Ao-raki (Cloud in the Sky), Raki-roa (Long Raki), Raki-rua (Raki the second) and Raraki-roa (Long Unbroken Line) came down to the earth in Te-Waka-o-Aoraki and explored the sea, but found no land as it was still submerged. They attempted to return to the sky but their karakia failed, and their waka ran aground on a reef, listing to the west. Climbing to this highest edge, the brothers and the waka turned to stone forming the south island and the alps.
But the waka needed modification to become habitable for people. The atua, Tuteraki Whanoa, shaped the land creating harbours, hills and flat areas such as the Banks Peninsula and the Canterbury Plains. Tuteraki Whanoa is shown as the large figure in the right of the mural, using a plank to shape the land. Two more atua helped: Kahukura clothed the land with plants and populated it with birds (top right), while Marokura filled the rivers with fish (bottom centre).
The large figure in the top left is Rakaihautu, who arrived on the land many generations later. He too shaped it, carving out lakes such as Waihora (Lake Ellesmere) and Wairewa (Lake Forsyth). His son, Raki-Houia, is shown in the top left corner exploring the coastal cliffs and gathering the plentiful birds that lived there.
The mural is full of details of further narratives including Maeroero (the enchanted trees that were kaitiaki to the land), Patupaiarehe, and Mahunui (Maui's waka).
Mural notes provided by Te Kopa Iti (Ara Artwork Collection).