Takaroa tana ko hekeheke e Papa
1998
Cath Brown
Accessible
Dimensions
9 panels, approx total H1000 x W26000mm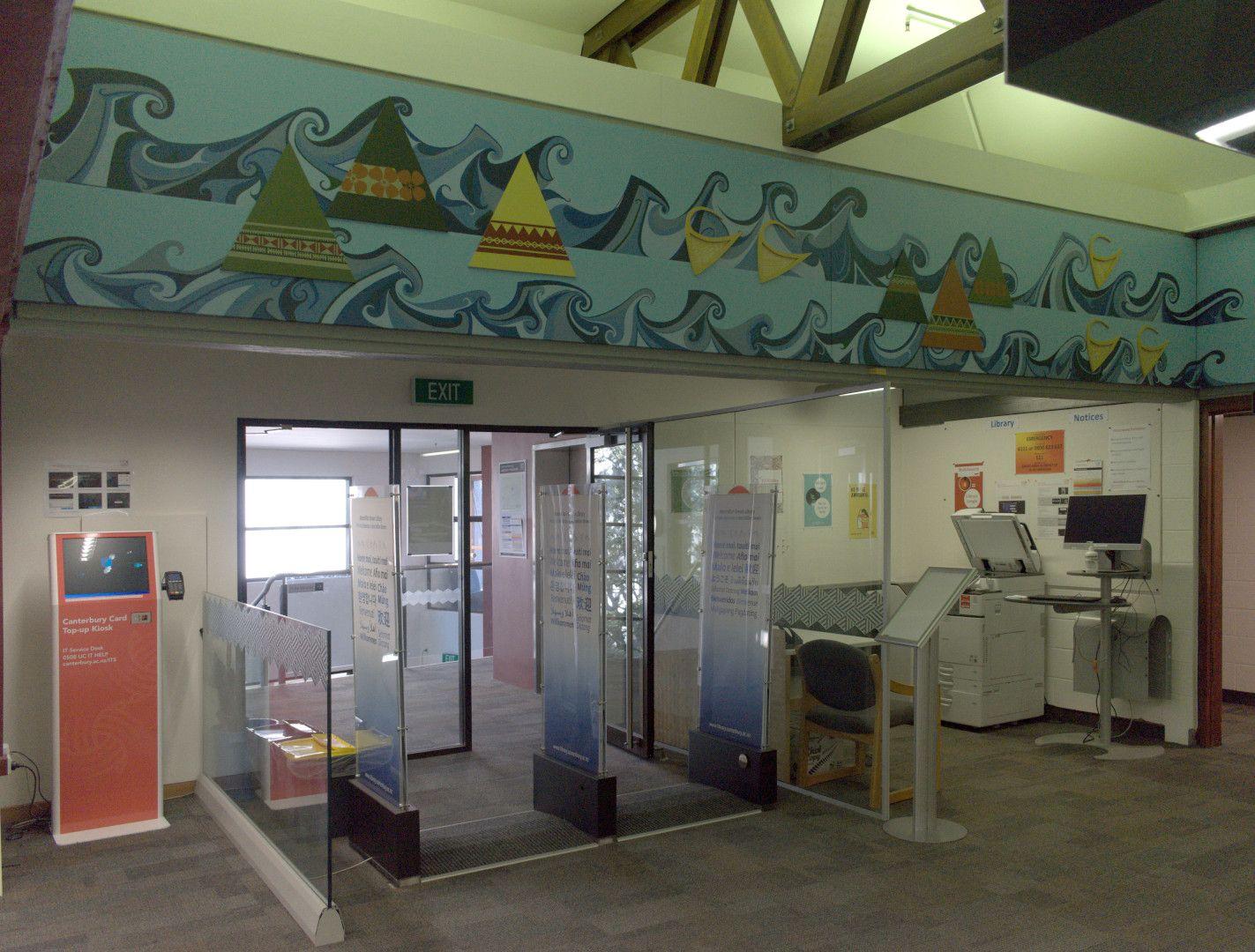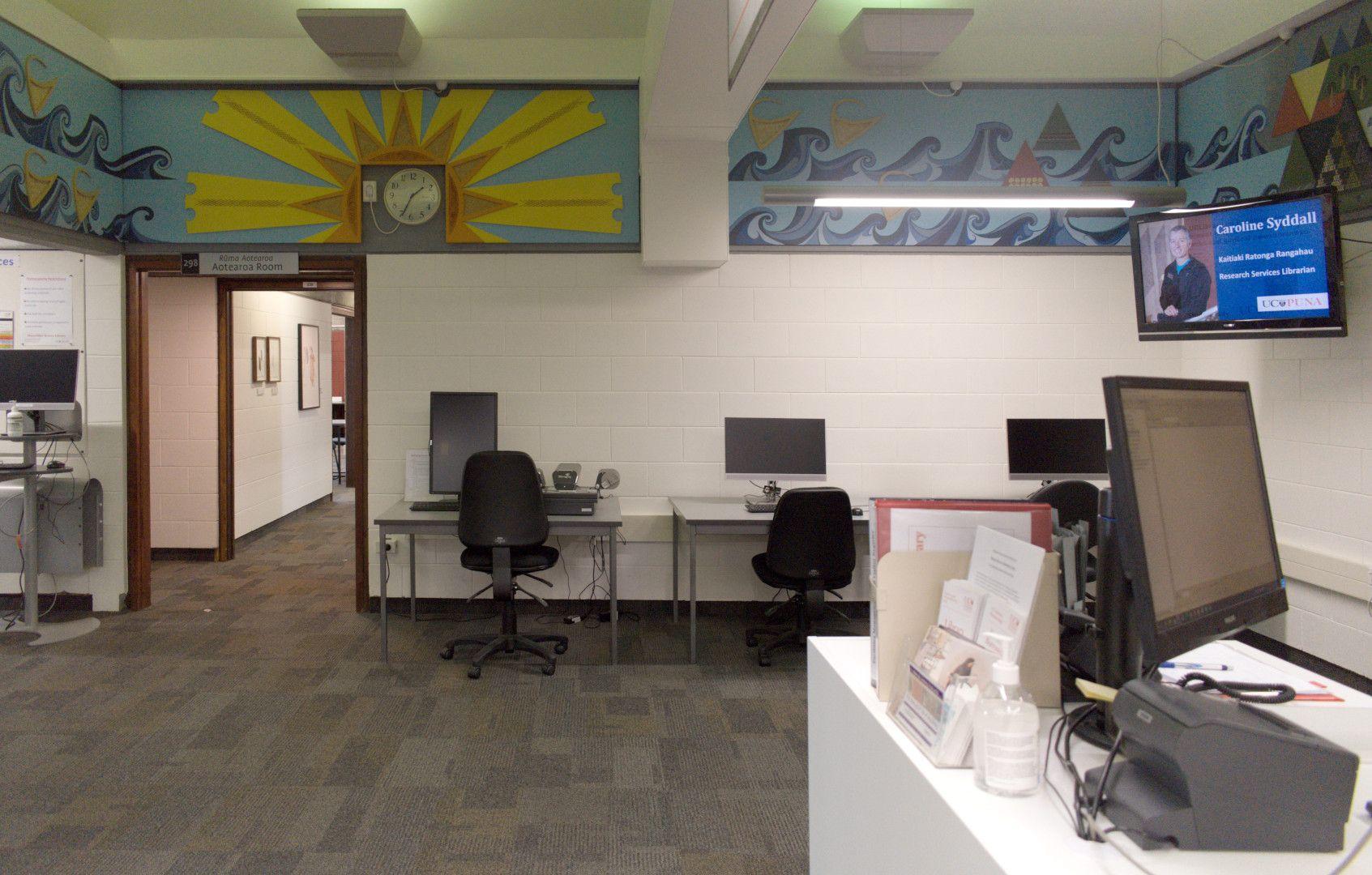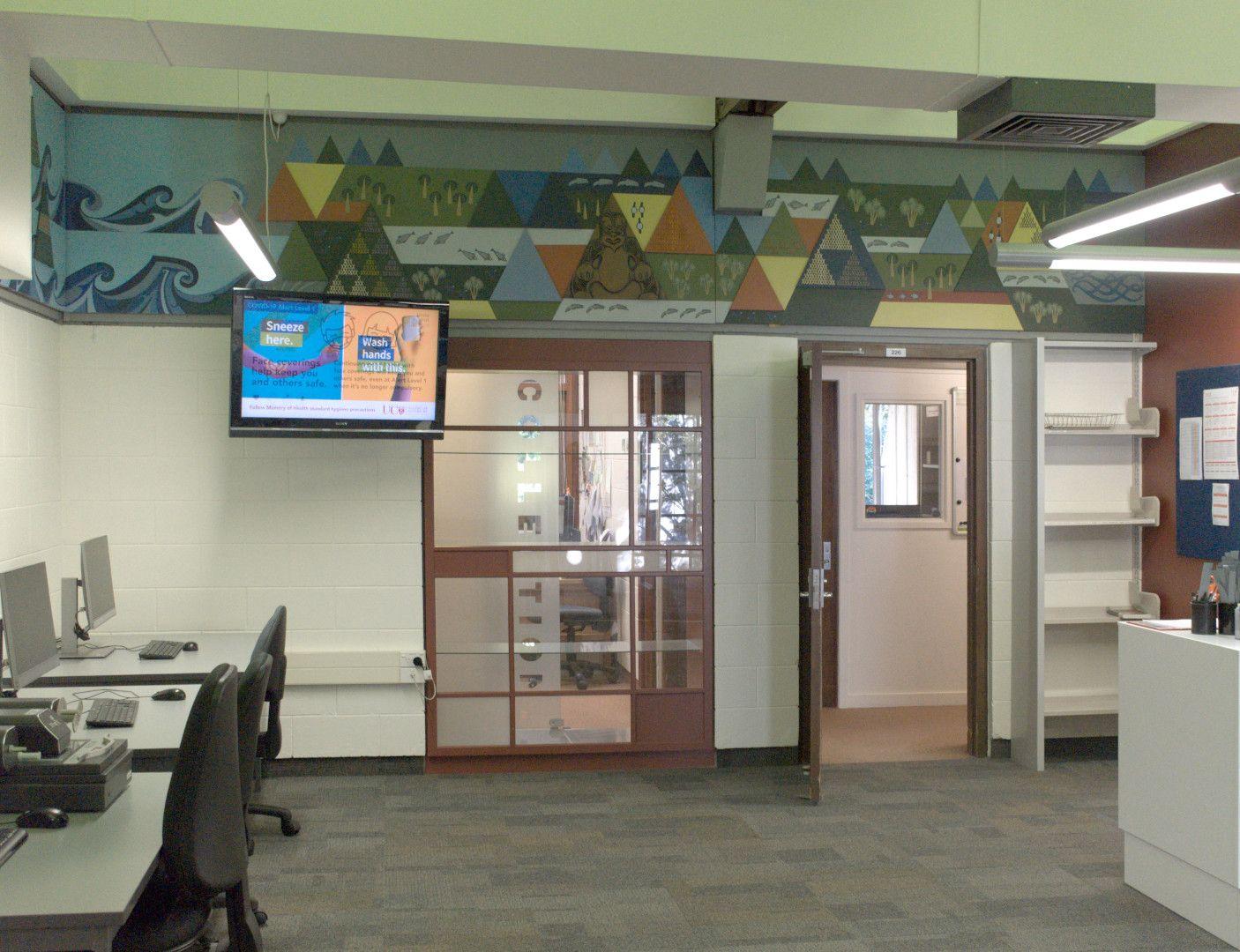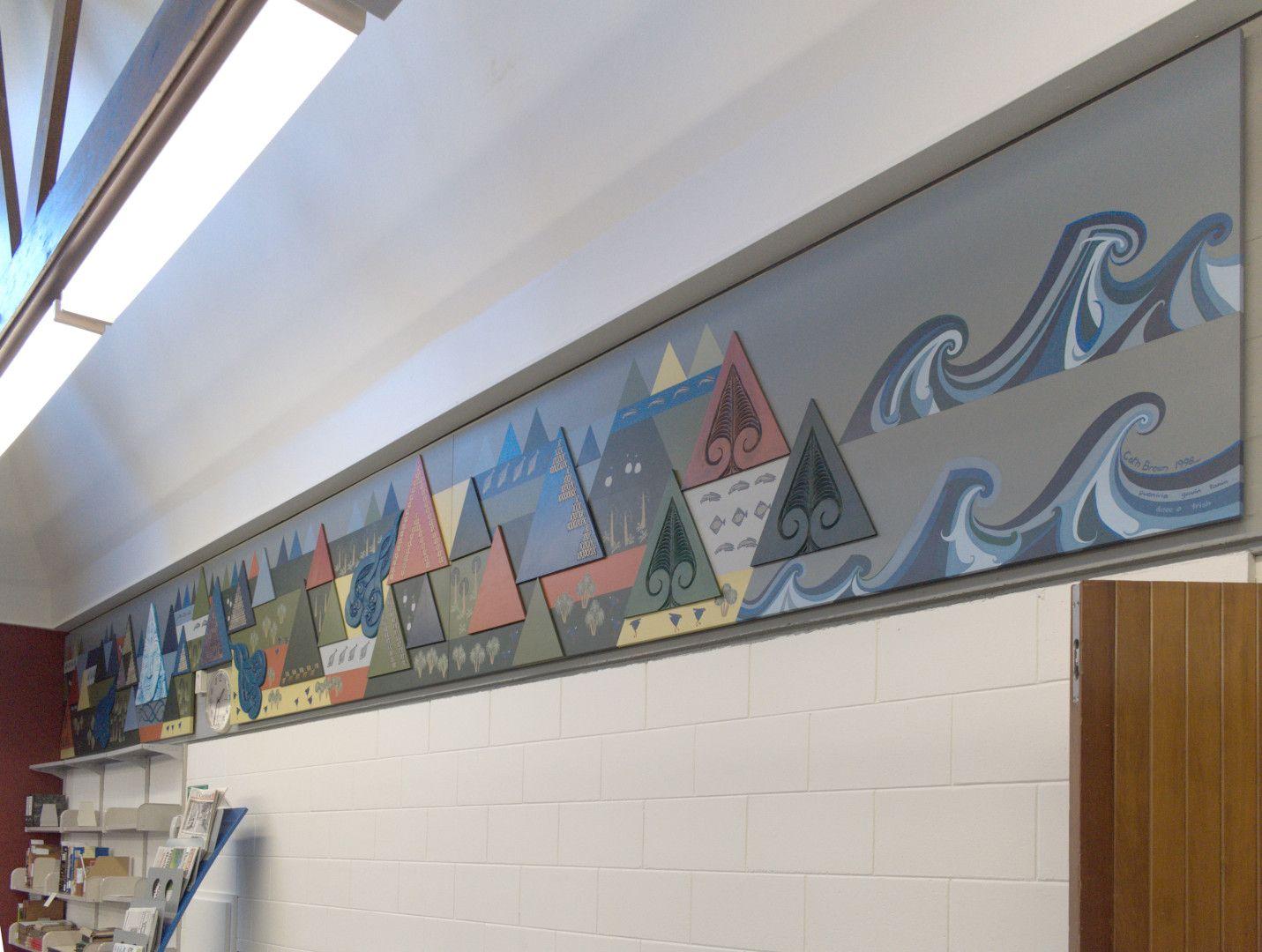 Description
This 9-panel mixed-media mural was commissioned by the University of Canterbury specifically for the Macmillan Brown Library foyer.
"It depicts Ngāi Tahu's voyage to Aotearoa and the tribe's occupation of the South Island, Te Wai Pounamu. It consists of nine one-metre-deep panels stretching across the top section of three walls.

The work signifies the connection between Papa, the mother earth and Takaroa, god of the ocean - the union of land and sea. The mural begins with the water of the Pacific Ocean and the islands where Ngāi Tahu's ancestors originated. Water is very important in Ngāi Tahu mythology. Cath also wanted to emphasize the Library's link with the University's Macmillan Brown Centre for Pacific Studies.
Cath based her designs on a thorough inspection of the Library. Part of the mural's shape had to be adapted to features of the reading room. In one place for example, the room's electric clock has been incorporated into a resplendent sun. Cath believed the juxtaposition was appropriate since historically the sun was used to tell time. Further along the mural are depictions of Tū-te-raki-whanoa, the god who clothed the South Island with fish, birds and trees.

Symbols of local flora and fauna appear in the work, including tī kouka (cabbage trees), tōtara, pūkeko, pātiki (flounder) and tuna (eels). Eels reflect the artist's connection with Taumutu, her home marae at Waihora - Lake Ellesmere. The mural continues with images of rivers and lakes then progresses to Aoraki before ending with the volcanoes that formed Horomaka - Bank's Peninsula. In places Cath attached pieces of raranga (weaving), whakairo (carving) and other items which add texture and relief.

The mural's colours are earthy - blues, greys, browns and reds. These are the colours Cath saw from her home when looking towards the hills and when she drives to Te Tai Poutini - The West Coast. The colours are also influenced by the existing tones of the Library's walls and carpet.

Five people worked virtually non-stop at Cath's home to produce this mural within two months. Installation went fairly smoothly but a little touching up was necessary to re-align images which straddled some of the panels. Cath, who was the 1997 artist in residence at Christchurch Polytechnic, usually combined ceramics with weaving in her works.

This work was blessed by the Rev. Roger Maaka of the University's Māori Department on February 20th 1998."

Cath Brown (Ngāi Tahu) was a member of the Māori modernist movement.
~ source: University of Waikato Art Collection
Mural installed in Macmillan Brown Library Chronicle vol. 33, no. 3 (5 March 1998)